UN humanitarian chief Valerie Amos plans to visit North Korea next month to assess the growing food crisis there, a UN spokeswoman said Thursday.
Amos would be one of the most senior UN officials to visit the secretive North for several years.
"Plans are under way for the trip," which would be from October 17-21, UN humanitarian spokeswoman Stephanie Bunker told AFP. "She wants to get a first hand look of the situation in North Korea."
North Korea has asked for foreign food aid and the United Nations has issued a $218 million appeal for North Korea. Barely 10 percent has been funded by donations however.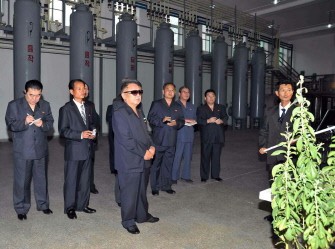 This undated picture, released from North Korea's official Korean Central News Agency on September 9, 2011 shows North Korean leader Kim Jong Il (C) inspecting the Pyongyang Stevia Processing Factory in Pyongyang
Bunker said the trip to North Korea would follow a visit to China and the final details of what Amos, a UN under secretary general and chief emergency relief coordinator, would do there had not yet been finalized.
North Korea tightly controls the movement of UN workers and international aid agencies operating in the country. But restrictions have been eased in recent months as food shortages grow.
North Korea is under UN Security Council sanctions over its nuclear weapons program, but UN Secretary General Ban Ki-moon said last month that it should be given humanitarian aid regardless of "political considerations or any other calculations".
Ban, a South Korean, has never visited the North but said he would like to go there while UN leader.
North Korea went through a famine in the 1990s in which hundreds of thousands of people are said to have died. It has drastically cut public food handouts in recent months with people again eating grass to survive, one of the most experienced aid workers in the isolated nation said recently.
Food rations have been cut to as low as 150 grams (5.3 ounces) a day per person in some parts of the country as foreign donations collapse and higher international prices make imports more expensive, Katharina Zellweger, head of a Swiss government aid office in Pyongyang, said on a visit to the UN headquarters in June.