UNITED NATIONS, June 9, 2011 (AFP) - A UN AIDS summit has set a target of more than doubling the number of sufferers receiving life-saving treatment to 15 million by 2015.
Health groups said the summit accord, to be officially unveiled Friday, was a "critical" step in achieving universal access to drugs, but that rich countries must now commit to paying the bill.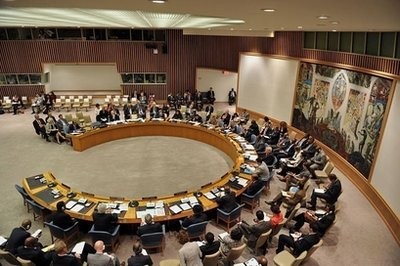 AFP file - A United Nations Security Council meeting on Impact of HIV/AIDS epidemic on international peace and security at UN headquarters in New York on June 7, 2011
In the final statement, obtained Thursday by AFP, countries at the summit marking the 30th anniversary of the discovery of AIDS "commit to accelerate efforts to achieve the goal of universal access to antiretroviral treatment."
It sets the "target" of getting 15 million HIV sufferers in the poorest countries on antiretroviral treatment by 2015.
The accord also aims to end mother-to-child transfer of HIV by 2015 and increase preventive measures for the "most vulnerable populations."
The international community currently funds treatment for about 6.6 million people in poorer countries, mainly in Africa.
The summit declaration does not make specific new funding commitments, however, and overall financing fell in 2009 and 2010, according to health groups.
About $10 billion a year is spent now, and the UN agency coordinating the international battle against the disease estimates that more than $6 billion of additional annual funding is needed to get treatment to 15 million people.
"There are nine million people waiting for HIV treatment today," said Tido von Schoen-Angerer, executive director of the Medecins Sans Frontiers (Doctors Without Borders) treatment campaign.
"This whole AIDS summit will have been a farce if we don't see real plans to ramp up treatment so we can get ahead of the wave of new infections."
Much of the pressure on richer nations to commit to firm treatment targets has come from African countries and health groups such as MSF.
African presidents such as Goodluck Jonathan of Nigeria, Paul Kagame of Rwanda and Ali Bongo Ondimba of Gabon came to the United Nations to plead the continent's case for extra resources.
Spectacular progress has been made in extending the life of patients through antiretrovirals, and new research indicates that the treatment also drastically reduces new infections.
But about 34 million people around the world have the disease, 1.8 million die from it each year and there are 7,000 new infections each day.
UN Secretary General Ban Ki-moon told the summit that the international goal must now be to eliminate Acquired Immune Deficiency Syndrome by 2020, with "zero new infections, zero stigma and zero AIDS-related deaths."
"If we are to relegate AIDS to the history books we must be bold. That means facing sensitive issues, including men who have sex with men, drug users and the sex trade," he said.
He went on to call on all nations to "come together in global solidarity as never before," to achieve universal treatment.
The summit has also vowed to halt an upward spiral in drug costs by "addressing barriers to the legal trade of generics and other low-cost medicines" which are widely used in poorer countries.
Using generics, the annual cost of antiretrovirals has fallen from more than $10,000 in 2001 to about $67 a year now, according to MSF.
Brazil's Foreign Minister Antonio Patriota welcomed the final document because it included "flexibilities" that enable countries to make low-cost drugs.
Britain's delegation at the summit said it was aiming to generate enough savings by driving down medicine costs to get an extra 500,000 people in Africa on treatment by 2015.
And the United States, which is already the leading financial contributor to the AIDS effort, pledged another $75 million for action against mother-to-child transmission.