The UN's atomic watchdog approved an inspections agreement Friday with India that is key to finalising a US-India nuclear cooperation deal that critics say undermines non-proliferation efforts.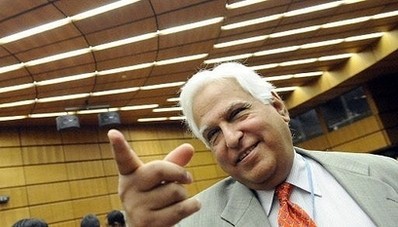 Pakistan's ambassador to the International Atomic Energy Agency (IAEA), Shahbaz reacts during the board of governors meeting in Vienna. The IAEA's board of governors approved an inspections agreement Friday with India that is key to finalising a US-India nuclear cooperation deal that critics say undermines non-proliferation efforts.(AFP/Samuel Kubani)
The so-called safeguards agreement will subject Indian nuclear facilities to IAEA supervision and is a pre-condition to a deal under which the United States will supply New Delhi with civilian nuclear fuel and technology.
"I believe the agreement is good for India, and good for the world," IAEA Director General Mohamed ElBaradei told journalists after the meeting.
India's Prime Minister Manmohan Singh, reacting from Colombo, hailed what he called a "milestone" in India's cooperation with the international community in the peaceful use of atomic energy.
The White House also reacted positively, spokesman Gordon Johndroe saying the move "will welcome India into the non-proliferation mainstream and assist India in meeting its growing energy needs in an environmentally friendly way."
The next step, he said, "will be to proceed to the Nuclear Suppliers Group (NSG) where we hope to move quickly on revising the guidelines that will enable civil nuclear cooperation with India before submitting the agreement for congressional approval later this year."
India still needs a waiver from the NSG -- 45 states exporting nuclear fuel and technology -- and ratification by the US Congress before the deal can go through.
The rules of the NSG, which is expected to hold its next meeting on August 21 in Vienna, ban trade with states, like India, that have not signed the Nuclear Non-Proliferation Treaty (NPT).
But the chairman of India's Atomic Energy Commission, Anil Kakodkar, remained confident that New Delhi would get clearance.
"We are of course approaching all friendly countries but we do hope that the NSG will similarly grant a clean unconditional exemption for India," he told reporters in Vienna.
"(The deal) is certainly important for India but it's also important for the world at large because I think it meets the twin objectives of energy security as well as global climate change-related issues and concerns," he said.
A few countries, including Brazil, Japan, Ireland, Austria and Switzerland, expressed reservations, IAEA diplomats said, while Iran accused the United States of double standards for seeking cooperation with India while trying to halt Iran's nuclear programme.
But all 35 members of the IAEA board of governors reached a consensus in the end, joined by India's neighbour and long-time rival Pakistan, which is not a party to the NPT either.
Many put this down to Islamabad's long-time goal of one day signing its own safeguards agreement with the IAEA.
Britain's ambassador to the agency, Simon Smith, said the decision would make a "significant contribution" to energy and climate security and argued that it was a "gain" for the non-proliferation regime.
"France has long supported the development of civil nuclear cooperation with India," the French Foreign Ministry added in a statement, underlining that nuclear energy would allow India to "reconcile economic development" with energy security and climate change needs.
Critics have said the deal undermines international non-proliferation efforts by providing US nuclear technology to a non-NPT state that developed atomic bombs in secret and conducted its first nuclear test in 1974.
ElBaradei said he hoped the agreement would "reignite" the debate on nuclear disarmament and create a new environment of partnership.
"And the concrete result of that, I hope, will be a comprehensive moratorium by all states that have nuclear weapons not to test them at any time in the future," he said.
Under the safeguards agreement, 14 of India's 22 reactors, six of which are already subject to other safeguard agreements, are expected to come under agency supervision by 2014 -- the first ones as early as 2009.
The agreement will be "of indefinite duration," ElBaradei said.