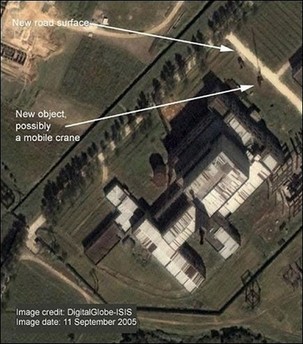 A file DigitalGlobe image shows the 5 MWe nuclear reactor in Yongbyon, DPRK
The UN atomic agency gave the green light Monday for inspectors to return to Democratic People's Republic of Korea (DPRK) for the first time since 2002 to verify steps by Pyongyang to dismantle its nuclear weapons programme.
The International Atomic Energy Agency's (IAEA) 35-nation board of governors approved by consensus a request for a DPRK mission, agency chief Mohamed ElBaradei told reporters.
A nine-member IAEA inspector team is expected to travel to DPRK within the next "week or two", ElBaradei said.
The mission will re-establish international monitoring nearly five years after the agency was kicked out in December 2002 when Pyongyang moved to re-start its Yongbyon plutonium-producing nuclear reactor and resume weapons work.
The reclusive, DPRK conducted its first nuclear test in October last year. It is believed to have several plutonium bombs.
DPRK has now agreed to shut down Yongbyon, in a six-party agreement reached on February 13. The accord, which secures fuel supplies for DPRK, is a first step towards Pyongyang giving up its nuclear weapons.
ElBaradei said "shutting down the facilities . . . should not take much time, probably a few days" but then surveillance cameras and other equipment would have to be installed.
The site includes the five-megawatt Yongbyon research reactor plus two other power reactors under construction, a reprocessing plant and a fuel fabrication plant.
The IAEA is still waiting for a formal invitation to send its inspectors to DPRK, while Pyongyang is waiting for a shipment of fuel from Republic of Korea (RoK) as a first payment in a deal reached with China, Japan, RoK, Russia and the United States, diplomats said.
Energy-starved DPRK is getting 50,000 tonnes of oil from RoK in return for closing Yongbyon, and the first shipment is due to be sent Thursday.