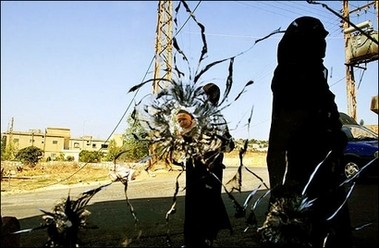 A baby is seen through a hole in the glass of the window of a hairdresser's shop that was shattered by a cluster bomb, during Israel's offensive against Hezbollah this summer in the southern Lebanese village of Habboush (AFP Photo)
United Nations humanitarian chief Jan Egeland called Tuesday for an immediate global freeze on cluster bombs following their intensive use during the recent conflict in Lebanon.
The United Nations said in a statement that hundreds of thousands of people in Lebanon were at risk due to unexploded cluster munitions, marking only the most recent example of the "devastating" and lingering impact of such weaponry.
"As a matter of urgency, I call on all states to implement an immediate freeze on the use of cluster munitions," Egeland, the UN undersecretary general for humanitarian affairs, said in a statement.
"This freeze is essential until the international community puts in place effective legal instruments to address urgent humanitarian concerns about their use," he added.
The appeal came at the beginning of a review conference on a global arms treaty that restricts some types of conventional munitions, which has been ratified by more than 87 countries.
"Ultimately, as long as there is no effective ban, these weapons will continue to disproportionately affect civilians, maiming and killing women, children and other vulnerable groups," Egeland said.
"The states gathered for the Review Conference should commit to immediately freeze the use of cluster munitions and strengthen existing international humanitarian law."
The Convention on Certain Conventional Weapons bans or restricts the use of chosen types of weapons that cause "unnecessary or unjustifiable suffering to combatants" or that indiscriminately affect civilians.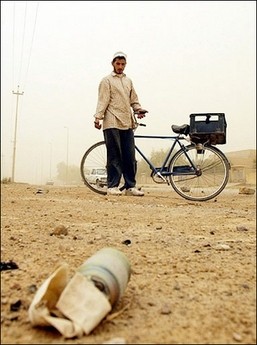 An Iraqi man stands near an unexploded cluster bomb used by the US Army in Najaf, in 2003.
The countries involved have so far failed to agree on including cluster munitions.
The United Nations said the density of unexploded cluster munitions in Lebanon was higher than those found after conflicts in Kosovo and Iraq -- which had already caused alarm among humanitarian agencies.
Unexploded cluster munitions are a "constant threat" to 200,000 refugees and internally displaced people in Lebanon as well as for hundreds of thousands of people returning to their homes and for humanitarian and reconstruction workers, it added.
Laos, Cambodia and Viet Nam are still suffering from the burden of unexploded cluster munitions some 30 years after the end of conflicts there, hampering farming and key buidling projects.
"While some progress has been made in the intervening years, these weapons have continued to be used with devastating effect, most recently in Lebanon and Israel by both sides to the conflict," the UN added.