The international community "strongly supports" Palestinian efforts to build a state, UN chief

Ban Ki-moon

said, branding all

Israeli settlement activity

illegal.
He kicked off a two-day visit to the Palestinian territories and Israel aimed at restarting peace talks by meeting Palestinian premier Salam Fayyad in the West Bank political capital of Ramallah on Saturday.
Ban later met in Jerusalem with President Shimon Peres, after which Israel's head of state told a joint press conference that his country was ready to start negotiations with the Palestinians "right away".
On Sunday, the UN secretary general is due to meet Israeli Prime Minister Benjamin Netanyahu and Defence Minister Ehud Barak as well as to visit the Hamas-run Gaza Strip.
Despite the high-profile peace efforts, violence continued on the ground, claiming its first Palestinian life since an international row over settlements erupted last week.
Israeli troops shot dead a young Palestinian stone-thrower and critically wounded another in the West Bank village of Iraq Burin, Palestinian medics and security officials said.
They said troops entered the village to prevent fighting between villagers and Jewish settlers at nearby Bracha.
Villagers said the clash broke out when settlers attacked the village and was unrelated to the organised protests against Israeli settlements that have rippled through the West Bank and east Jerusalem over the past week.
But the Israeli army said the Palestinians had been heading for the settlement and had hurled stones at soldiers trying to stop them. Troops had used tear gas and rubber bullets but not live rounds, an army spokesman said.
Meanwhile, Palestinian militants fired three rockets from Gaza into southern Israel, but they all fell harmlessly on open ground, the military said.
Ban arrived a day after the Middle East diplomatic Quartet called for Israel to halt all settlement construction and for the two sides to reach a peace deal by 2012.
At his press conference with Ban, Peres welcomed the deadline. "If we want to complete (negotiations) in two years, we have to start right away," he said.
The Palestinians grudgingly agreed to US-led indirect talks earlier this month but those efforts largely fell apart two days later when Israel announced plans to build 1,600 new settler homes in mostly Arab east Jerusalem.
Ban "condemned strongly" the building plan.
"All settlement activity is illegal anywhere in the occupied territories, and this must stop," he said, implicitly rejecting Israel's distinction between the West Bank and annexed east Jerusalem.
Fayyad, a former World Bank economist, hailed the Quartet's statement as "positive and comprehensive" but said more had to be done, including allowing Palestinian security forces to operate throughout the West Bank.
On Friday, the Middle East Quartet of top diplomatic players, grouping the European Union, Russia, the United Nations and the United States, meeting in Moscow, urged Israel to freeze all settlement activity.
They also called on Israel and the Palestinians to resume talks on final-status issues -- security, borders, the fate of Palestinian refugees and the status of Jerusalem -- and to reach a peace deal within 24 months.
In contrast to Peres, Israeli Foreign Minister Avigdor Lieberman reacted that "peace cannot be imposed artificially and with an unrealistic calendar."
The Palestinians insist the settlement freeze also apply to east Jerusalem, which Israel seized in the 1967 Six-Day War and annexed in a move not recognised by any other government.
But in an interview with the Germany weekly Spiegel to be published on Monday, Lieberman said east Jerusalem was a constituent part of the Israeli capital.
"Jerusalem is not negotiable," he said.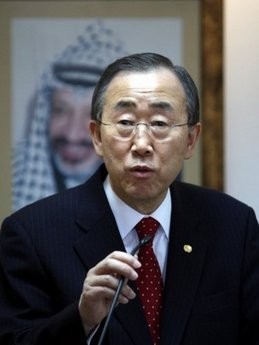 UN Secretary General Ban Ki-moon speaks during a joint press conference with Palestinian prime minister Salam Fayyad following talks in the West Bank city of Ramallah.
Key facts on the Israeli settlements Israel's announcement last week of the 1,600 new homes to be built in east Jerusalem infuriated the United States, especially as it coincided with a visit by US Vice President Joe Biden.
US Middle East envoy George Mitchell, on his way back to the region, said he would also meet with Netanyahu on Sunday and Palestinian president Mahmud Abbas the next day.
Right after talks with Mitchell, Netanyahu is to fly to Washington for talks with administration officials and Jewish leaders, although his office has not confirmed whether he would meet Obama.
On the way back, Netanyahu is to meet European leaders in Brussels on Wednesday, Israeli officials said.