U.N. Secretary-General Ban Ki-moon is likely to return to South Korea around Jan. 15, and may push for a board-based political coalition in preparation for next year's presidential election, a close associate said Monday, source from the Yonhap..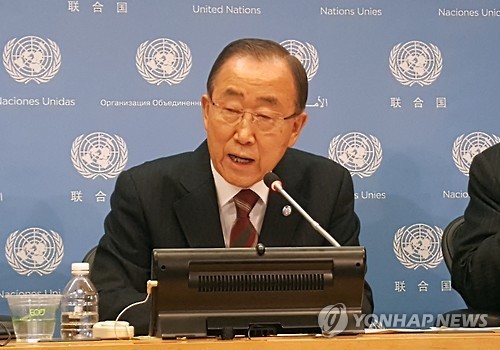 U.N. Secretary-General Ban Ki-moon (Yonhap)
Ban, the frontrunner among presidential hopefuls, will reach out to a wide range of political forces rather than enter an existing party, namely the ruling Saenuri Party, he told reporters, asking not to be named.
"Rather than joining an existing party, he will engage in activities for another leap of the Republic of Korea based on his accumulated experiences," he said.
He indicated Ban, whose term at the world body ends at the end of this month, may create his own political party.
"I believe the chance for him to join the Saenuri Party is very slim. Just as he stressed inclusive leadership, he will try to realize new politics with various political forces as the pillars of his project," he added.
Ban overtook former opposition leader Moon to top presidential polls last week after hinting he would run in next year's presidential election.
The associate also said Ban will aggressively deal with ground allegations against him from his rivals and media, referring to a news report that Ban received a total of US$230,000 in cash in 2005 and 2007 from a Korean businessmen convicted of bribery. He was serving as South Korea's foreign minister in 2005 and U.N. chief in 2007.
The aide said the report by The Sisa Journal, a weekly magazine published in Seoul, is groundless and that Ban could take legal action against any false accusations.
He dismissed some criticism that Ban lacks knowledge of domestic politics due to his nearly 10 years of living abroad. That will prove if he holds a debate with Moon, former head and potential flag-bearer of the main opposition Democratic Party, he said.
He emphasized Ban's on-the-spot experience in various places across the world plagued by war and famine, which he said will help him exert leadership at the time of national crisis.
Ban was slightly ahead of Moon in opinion polls last week after hinting at his candidacy.
In a survey by Real Meter released Monday, Ban garnered an approval rating of 23.3 percent, up 2.8 percentage points on week. He was virtually neck-and-neck with Moon who earned 23.1 percent, down 0.6 percentage point.