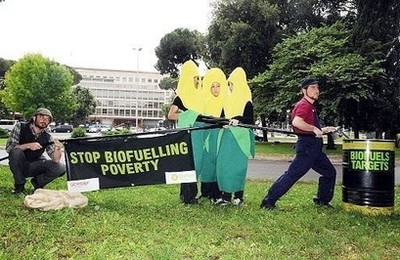 Oxfam international members protest outside the FAO headquarters in Rome ahead of the UN Food and Agriculture Organization summit June 3-5.Oxfam members staged the protest to alert the public opinion on the world food crisis and to ask the international community to find lasting solutions to solve the problem.
UN Secretary General Ban Ki-moon on Tuesday urged the "revitalisation" of agriculture to confront the root causes of spiralling world food prices at the start of a UN food security summit.
"We have a historic opportunity to revitalise agriculture," Ban said at the three-day summit at the Food and Agriculture Organisation headquarters in Rome.
"This crisis also presents us with an opportunity to revisit (past policies). ... While we must respond immediately to high food prices, it is important that our long-term focus is on improving food security," he said.