UN Secretary General Ban Ki-moon on Monday sharply criticised Zimbabwe's violence-marred election, saying he considered the results giving President Robert Mugabe another term illegitimate.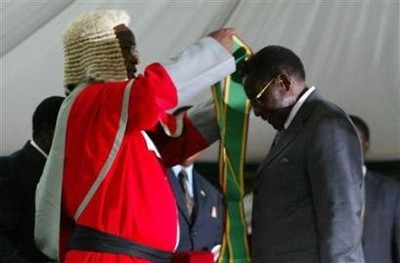 Zimbabwe's President Robert Mugabe (R) is sworn in by Chief Justice Godfrey Chidyausiku during his inauguration at State House in Harare June 29, 2008.(AFP Photo)
Ban was in Tokyo on the first leg of an Asian tour in which the former South Korean diplomat was to discuss progress in the international drive to eliminate Democratic People's Republic of Korea's nuclear weapons.
His visit came as Mugabe was sworn in Sunday for another term in Zimbabwe, hours after the election commission declared he won more than 85 percent of the votes cast.
"The secretary-general has said repeatedly that conditions were not in place for a free and fair election and observers have confirmed this from the deeply flawed process," Ban spokeswoman Marie Okabe said in statement.
"The outcome did not reflect the true and genuine will of the Zimbabwean people or produce a legitimate result," the statement said.
Mugabe, who has ruled Zimbabwe since independence in 1980, narrowly lost the first round amid public criticism of the dire economic conditions and hyperinflation in the African nation.
Opposition leader Morgan Tsvangirai pulled out of the run-off election, citing a campaign of violence against his supporters.
Ban "encourages efforts of the two sides to negotiate a political solution that would end violence and intimidation," the statement said, offering the UN's services.