UN chief Ban Ki-moon called for more political will to tackle climate change and urged Israel once again to freeze settlements to revive Middle East peace talks, in an interview with AFP Saturday.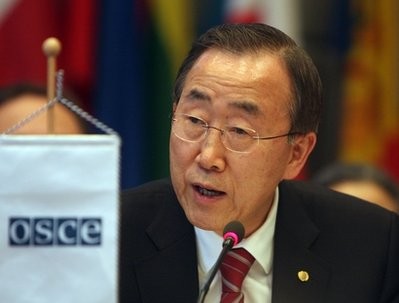 U.N. Secretary General Ban Ki-moon delivers a speech during a session of the Permanent Council of the Organization for Security and Cooperation in Europe, OSCE, at Vienna's Hofburg palace, Austria, on Thursday, April 8, 2010.
After a disastrous summit in Copenhagen in December, where states failed to agree on a deadline to reduce carbon emissions that cause global warming, a legally-binding agreement on climate change still appeared far off.
"I take climate change as a high priority... (but) when we will be able to have this legally-binding treaty, that depends on the political will of the member states," Ban told AFP in his plush suite at Vienna's Hotel Sacher.
"Even with limited resources... if (states) put a policy priority on climate change, these limited resources can be invested: this is a smart investment which can create a green economy and green growth by generating more green jobs."
"That is what all leaders believe. Now they must deliver it," he added.
The UN chief insisted: "The Copenhagen summit was a success in mobilising political will. The problem... was there was a clear lack of transparency, of full confidence and trust among the member states."
Now the important thing was to restore this trust to move forward, Ban said, adding that elements from the Copenhagen Accord, a draft deal agreed at the last minute by a few dozen countries in December, must be included in future negotiations.
The next big climate summit will be held in the Mexican resort of Cancun in November and December.
As a member of the Middle East Quartet which groups the United Nations, European Union, Russia and the United States, Ban Ki-moon also renewed Saturday his call for Israel to freeze settlement building, which has stalled peace efforts.
"I'm sorry to say that still the situation on the ground is not conducive to an early launch of negotiations," said Ban, who travelled to the region last month and spoke to Arab leaders.
Israel should "create a favourable atmosphere" to bring the Arab side back to the negotiating table, he argued.
"They should freeze settlements, they should leave this status of Jerusalem (considered by both sides as their capital) to the final negotiation issues, they should not create such negative conditions."
Fresh US efforts to broker indirect Israeli-Palestinian talks last month fell flat after Israel announced plans to build 1,600 new settler homes in east Jerusalem.
Even then, "the proximity talks are not an end in itself, they should lead to direct negotiations between Israelis and Palestinian authorities," Ban insisted.
For the moment, no further Quartet meeting was planned, he said.
"We agreed first of all to closely monitor the situation and continue to encourage the parties concerned, the Israelis and Palestinians, to launch proximity talks as soon as possible.
"Whenever it is necessary, we will be able to meet again in the region."
On the issue of Iran's disputed nuclear programme, the UN chief hinted that sanctions might be in order to force the Islamic republic to halt uranium enrichment, which the West suspects could be used to make an atomic bomb.
"Iran should fully comply with the relevant (UN) Security Council resolutions. There are five resolutions already adopted by the Security Council, among which three are sanction measures," he said.
Ban stopped short of making an open call for sanctions however, noting that this was a matter to be decided by the members of the Security Council.
"I am just closely monitoring the situation and I'm doing what I should as a secretary-general, urging Iranian authorities to fully comply" with Security Council and other treaty obligations such as the Nuclear Non-proliferation Treaty (NPT).
Tehran's lack of response to these calls however was "a source of great concern at this time."
Sanctions were looking more likely after China agreed Thursday to join five other major powers for more talks on a fourth set of UN sanctions against Iran, rowing back on its previous opposition.
Ban, a former Korean ambassador to Vienna, was in the Austrian capital for a three-day visit, during which he met with government members, UN officials and the security body OSCE.