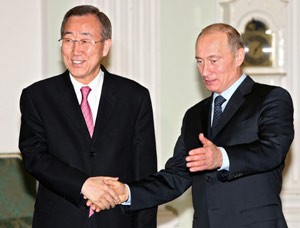 Russian President Vladimir Putin (R) welcomes new UN Secretary General Ban Ki-Moon in Kremlin, Nov. 1, 2006 (AFP Photo)
The incoming UN chief called on Democratic People's Republic of Korea (DPRK) to renounce nuclear weapons and said the United States and Japan should prepare for relations with Pyongyang if it did so, Russian news agencies said.
Speaking to Russian reporters following talks with President Vladimir Putin, the newly-designated UN secretary general, Republic of Korea's (RoK) Foreign Minister Ban Ki-Moon, said Pyongyang must forego nuclear weapons and readmit UN inspectors.
In response, DPRK should be given security guarantees and economic assistance while the United States and Japan should be ready to normalize relations with Pyongyang, RIA Novosti news agency quoted Ban as saying.
"The United States and Japan must prepare for the normalization of relations with DPRK" in response to measures that Pyongyang should take to allay fears over its nuclear weapons program, the agency quoted Ban as saying.
Those measures would include a renunciation of nuclear weapons, readmittance of International Atomic Energy Agency (IAEA) nuclear inspectors and a freeze of all its nuclear facilities including a five-megawatt reactor, the report said.
Ban said he hoped an anticipated resumption of six-party negotiations on DPRK's nuclear program would result in implementation of an agreement announced last year under which Pyongyang agreed to shut the program down.
"We support the denuclearization of the Korean peninsula," Interfax news agency quoted Ban as saying after his meeting with Putin and prior to talks with Russian Foreign Minister Sergei Lavrov.
DPRK leader Kim Jong-Il has long been reported to be seeking security guarantees from, and a normalization of relations with, the United States and its allies in northeast Asia.
But although both sides have in recent years explored ways to ease tensions -- former US secretary of state Madeleine Albright visited Pyongyang in 2000 -- those forays have yielded little obvious progress.
Rejecting appeals for it to suspend its nuclear programs, DPRK expelled IAEA inspectors in late 2002 and withdrew from the Nuclear non-Proliferation Treaty in January 2003.
Last month, the United Nations approved a package of sanctions on DPRK days after it stunned the world by testing a nuclear bomb.
Shortly thereafter, US Secretary of State Condoleezza Rice made a whirlwind tour through northeast Asia, urging China, Japan and RoK to enforce those international sanctions in the strictest terms.
The United States announced in Beijing on Tuesday following a secret meeting with DPRK and Chinese officials that Pyongyang had agreed to return to the six-party negoatiations on its nuclear program.
The other three countries involved in the negotiations are: Japan, Russia and RoK.