UN Secretary General Ban Ki-moon on Tuesday urged restraint in a growing dispute between Uzbekistan and Tajikistan over the fate of a massive Tajik hydro-electric dam project.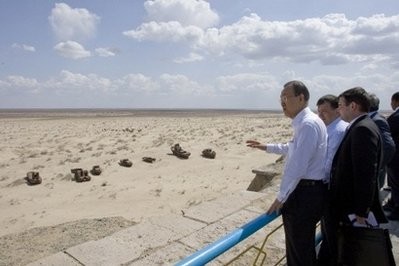 UN Secretary-General Ban Ki-moon visits the Aral Sea, Muynak, a former port city with a cemetery of ships in Nukus, Uzbekistan. (AFP Photo)
Ban, in Tajikistan as part of a tour through ex-Soviet Central Asia, said he was "deeply concerned" over the dispute, which has seen Uzbekistan block rail shipments to its impoverished neighbour.
"All parties concerned should refrain from unilateral action until the (international assessment team) has concluded its technical assessment of Tajikistan's proposed hydro-electric project," he told reporters in Dushanbe.
"These resources should be used fairly and harmoniously respecting the interests of neighbouring countries. This is a collective responsibility for all of the leaders of Central Asia and the international community."
Tajikistan, the poorest of the former Soviet republics of Central Asia, had pledged to move ahead unilaterally in the construction of a project it hopes will allow it to eventually become a net exporter of electricity.
The Rogun dam, which was first conceived as a gigantic Soviet hydro-electric power project, stalled as Tajikistan plunged into civil war in the early 1990s after the breakup of the Soviet Union.
But Tashkent fears the dam will damage its vital cotton industry, which depends on water which flows in from Tajikistan and Kyrgyzstan, and negatively impact millions of Uzbeks living downstream.
Tajik Foreign Minister Khamrokhon Zarifi, speaking at a joint news conference with Ban, denied ignoring the concerns of its neighbours and rebutted criticism of the project's environmental impact.
"Tajikistan has always taken into account the interests of other countries in the region, and our projects do not contradict those interests," he said.
"On the contrary, the realisation of these projects can only serve to provide the region with cheap and ecologically safe access to electricity, while improving access to water."
Uzbekistan, which has cut natural gas exports to Tajikistan during their frequent diplomatic spats, has been holding up railway deliveries since March, leading to fears of a further deterioration in relations between the neighbours.
Tashkent denies the holdup is intentional, blaming technical problems.
The two countries have long been at loggerheads over a number of issues from energy supplies and security issues to long-standing cultural strains, and the UN chief expressed his concern over the growing tensions.
"I am deeply concerned about what I heard about the potential crisis from the blockage of train shipments on the border, particularly agricultural implements in this planting season," Ban said.
Earlier this year Dushanbe began a new drive to raise funds for the dam, a mass share sale in a plan to raise 1.4 billion dollars to move forward the languishing project.