ISLAMABAD, Oct 21, 2009 (AFP) - The UN's World Food Programme on Wednesday closed distribution centres serving more than two million people in northwest Pakistan over security fears, a spokesman for the agency said.
The move affecting the Swat Valley region comes after a suicide bomber attacked a WFP compound in the capital Islamabad, killing five aid workers this month.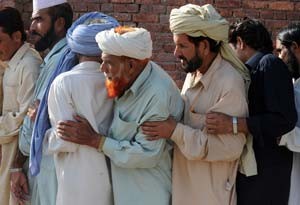 Internally displaced Pakistani civilians fleeing from military operations against Taliban militants in South Waziristan, queue up for their registration in Dera Ismail Khan on October 21, 2009 (AFP photo)
"We have closed all our food distribution centres in Swabi, Charsadda, Mardan, Swat, Buner, Dir and Bajaur which are the humanitarian hubs for internally displaced people in the region," said Amjad Jamal, a spokesman for WFP in Islamabad.
"We are facing problems regarding security, so it was decided last night to close these centres," Jamal told AFP.
The spokesman said the closures were temporary and that the decision would be reviewed later in the week.
The food centres had been giving out supplies for those displaced this year by fighting between the army and Taliban around the Swat Valley, which forced around two million people to flee.
Although most have since returned home, many remain in need and 2.2 million people received aid in the past month, said Jamal.
Taliban and Al-Qaeda-linked extremists have carried out a two-year campaign of attacks in Pakistan that have killed at least 2,280 people. On Tuesday, twin suicide bombers killed five people at a university in Islamabad.
Pakistani troops are waging a major anti-Taliban offensive in the northwest tribal region of South Waziristan. Officials say more than 120,000 civilians have fled the fighting, mainly to relatives' homes and rented accommodation.