ISLAMABAD, Aug 14, 2010 (AFP) - The United Nations has confirmed at least one case of cholera in flood-hit Pakistan and is stepping up efforts to treat people suffering from acute watery diarrhoea, a spokesman said Saturday.
"There has been at least one cholera confirmed case in Mingora," Maurizio Giuliano, spokesman for the UN Office for Humanitarian Affairs, told AFP, referring to the main town in the northwestern district of Swat.
"Given that there are concerns about cholera, which is a very deadly disease, what we've started to do instead of testing them for cholera is to treat everyone for cholera."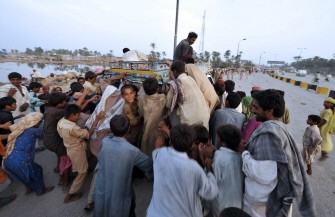 Pakistani flood survivors struggle for charity food near a makeshift camp in Sukkur on August 13, 2010. AFP
Giuliano said at least 36,000 people are reportedly suffering from acute watery diarrhoea.

"We're not suggesting that everyone who has acute watery diarrhoea has cholera, but cholera is certainly a concern and that's why we're stepping up our efforts to treat cholera," he said.
Pakistan says 14 to 20 million people face direct or indirect harm as a result of unprecedented floods that have triggered the country's worst humanitarian disaster.
The United Nations believes 1,600 people have died, while Islamabad has confirmed 1,384 deaths.