Water shortages in the Libyan capital of Tripoli are "serious" but not "critical", the United Nations' humanitarian coordinator in the country said Friday, dismissing fears of a looming humanitarian disaster.
Panos Moumtzis said that providing water to four million people in Tripoli and across a swathe of Libya remained "the most important and urgent and immediate priority" for humanitarian agencies, but the situation was in hand.
Residents of Tripoli have been without running water for close to a week as the war forced disruptions to Libya's state-of-the-art system that draws water from underground wells deep in the south of the country.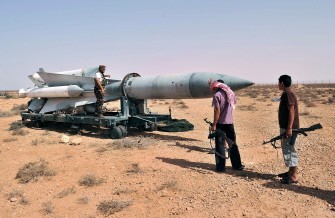 Libyan NTC fighters inspect a Scud missile at Al-Burkan base (codenamed K9), 70 kms from Bani Walid, southeast of Tripoli, on September 2, 2011.
"The situation at the moment with the provision of water remains serious but I want to clarify that it is not critical," Moumtzis said.
The United Nations and other international actors are importing around 11 million litres of drinking water to stave off an emergency, while engineers race to get the system back on line.
With over 500 wells linked to the Great Man Made River system no longer feeding the city, Tripoli residents have tapped long-dormant wells to procure water for everyday use while bottling companies provide free drinking water.
"Quite an adequate response has been provided so far", Moumtzis said.