AUCKLAND, Sept 4, 2011 (AFP) - Pacific leaders will highlight the threat that rising seas pose to low-lying nations at a regional forum in Auckland this week attended by the heads of the United Nations and the European Commission.
The annual Pacific Islands Forum, a 15-nation grouping usually dominated by Australia and New Zealand, has attracted a heavyweight guest list this year, partly because it occurs on the eve of the Rugby World Cup in New Zealand.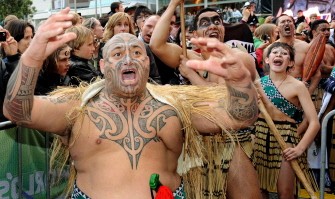 AFP - Maori warriors perform a 'haka' to New Zealand All Black rugby players during the team's official welcoming ceremony in Auckland on September 3, 2011. The All Blacks are preparing for the 2011 Rugby World Cup to be played September 9 to October 23.
In addition to United Nations Secretary General Ban Ki-moon and European Commission President Jose Manuel Barroso, French Foreign Minister Alain Juppe, and US Deputy Secretary of State Thomas Nides will make the trip to Auckland.
Ban, the first UN leader to attend the summit, said that his presence was intended to "continue sounding the alarm about climate change", while Barroso is travelling with Europe's climate action chief Connie Hedegaard.
Samoan Prime Minister Tuilaepa Sailele Malielegaoi said he expected global warming to dominate talks at the September 5-9 summit in New Zealand's largest city.
"What will feature prominently will be the adaptation to climate change, which is the most important focus of all the leaders of the Pacific Islands and all of them are going to be affected," Tuilaepa told the Pacnews news service.
The Samoan leader also expected the political situation in Fiji, which was expelled from the forum in the wake of a 2006 military coup, to feature prominently in discussions.
New Zealand Prime Minister John Key said the theme of this year's forum was "converting potential into prosperity".
"(It) will focus on how government leaders, business people and stakeholders in the Pacific can work together to promote sustainable economic development, and build on the region's strengths, particularly in fisheries, tourism and energy," he said.
New Zealand Foreign Minister Murray McCully said the forum's final day had been deliberately planned to coincide with the opening match of the Rugby World Cup as a way to attract more international guests to the Pacific summit.
"It was a conscious strategy to make this a magnet for big multilateral organisations whose presence could only enhance the standing of the forum but also provide practical support for its initiatives," he told the NZ Herald.
"When we bid for the Rugby World Cup, we said we would try to have a Pacific flavour to the New Zealand hosting of the event. We've gone out of our way to achieve that."
Other prominent guests include Commonwealth Secretary-General Kamalesh Sharma, China's Vice Foreign Minister Cui Tiankai, Indonesian Foreign Minister Marty Natalegawa and East Timor Prime Minister Xanana Gusmao.