European nations summoned Syrian ambassadors in a coordinated demand that President Bashar Assad stop gunning down his people, and Germany said sanctions were possible if the crackdown did not ease.
The United States called on the U.N.'s top human rights body to approve an independent probe and recommend prosecution if violations of international human rights law are uncovered.
A draft resolution to be considered at an emergency session of the U.N. Human Rights Council on Friday demands an immediate end to Assad's efforts to crush the challenge to his rule. It also calls on Syria to lift its ban on nearly all foreign media and ease its restrictions on the Internet and telecommunications.
The U.N.'s Security Council, however, failed to agree on a statement condemning the violence, highlighting divisions among world powers over the ways to treat the deadly unrest.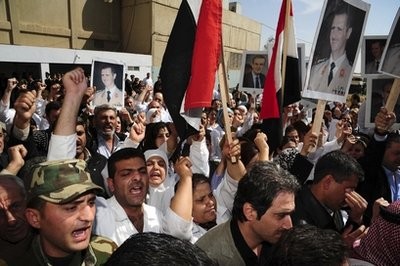 In this photo released by the Syrian official news agency SANA, medical staff members along with relatives of fifteen killed soldiers and security force members, hold pictures of Syrian President Bashar Assad and his father late President Hafez Assad as they watch the military police carry the coffins into ambulances before sending the bodies to their hometowns for burial, at a military hospital in Damascus, Syria, Tuesday, April 26, 2011
On Wednesday, France, Britain, Germany, Italy and Spain told Syrian ambassadors that they condemned the violence and said that Assad must change tactics, according to France's foreign ministry.
The German government said it would strongly support EU sanctions against the Syrian leadership and German Foreign Minister Guido Westerwelle said an arms embargo, asset freezes and travel restrictions were possible.
"If there is not an immediate change of course by the Syrian leadership, the international community will have to come up with consequences — then sanctions against Syria will be inevitable," Westerwelle said.
The European condemnation was a significant personal blow to Assad, a British-educated self-styled reformer who has made a high priority of efforts to bring Syria back into the global mainstream, efforts that included hosting a series of visits from European diplomats.
It was far from clear, however, if Europe's shaming of Assad would have enough impact to moderate his government's brutal handling of the Syrian uprising.
"This is a revolutionary movement and if he doesn't stop it, it will mean regime change and possibly civil war," said Joshua Landis, director of the University of Oklahoma's Center for Middle East Studies, who runs a blog called Syria Comment. "The threat of sanctions from Europe isn't going to be uppermost in his mind."
Landis said that Europeans sanctions could strengthen the effect of U.S. trade and financial sanctions slapped on Syria in 2004 and 2006, mainly on counterterrorism grounds.
"It could help bring down the regime much more quickly," he said.
Meanwhile, the Human Rights Council based at the United Nations' European headquarters in Geneva agreed to a U.S. request for a special session Friday focused on Syria. It is unusual for the U.N.'s 47-nation council to agree to such a request singling out the behavior of one nation.
"It is entirely appropriate that the Human Rights Council condemn willful government violence against peaceful political protesters," the U.S. ambassador to the council, Eileen Chamberlain Donahoe, said.
The EU's political and security committee was also planning to discuss Syria on Friday in Brussels and "all options are on the table," Michael Mann, a spokesman for European Union foreign policy chief Catherine Ashton, said.
U.S. officials have said Washington has begun drawing up targeted sanctions against him, his family and his inner circle to boost pressure on them to halt the repression.
The U.N.'s Security Council, however, failed to agree on a statement condemning Syrian violence against peaceful protesters.
France Britain, Germany and Portugal had circulated a draft media statement on Monday calling for the 15-member council to condemn the violence.
The relentless government crackdown against pro-democracy protesters has killed more than 400 people across Syria since mid-March, with 120 dead over the weekend, according to the U.N. Security forces have conducted sweeping arrests and raids across the country.
The U.N.'s top human rights official, Navi Pillay, has appealed to Assad to withdraw his forces and is preparing to visit Syria and independently assess the situation on the ground.
Britain's top diplomat insisted Wednesday it isn't too late for Assad to embrace democratic reforms, despite his violent crackdown on protesters. But Foreign Secretary William Hague told BBC radio that Assad may not command enough power to convince other members of his inner circle of the need for changes.
"One of the difficulties in Syria," said Hague, who visited Syria in January for talks, "is that President Assad's power depends on a wide group of people in his own family and, of course, other members of his own government."