TEHRAN (AFP) – UN inspectors will visit Iran's controversial second uranium enrichment plant on Sunday to verify whether the newly disclosed facility was created for peaceful nuclear purposes, as claimed by Tehran.
The inspection of the plant, being built inside a mountain near the Shiite holy city of Qom, comes as US President Barack Obama garnered support from France and Russia for a separate UN-brokered deal to end the crisis over Tehran's atomic programme.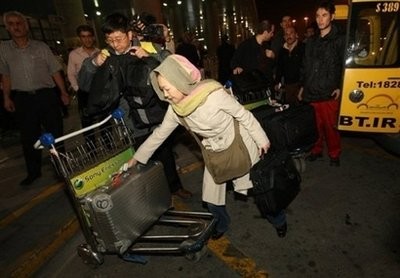 International Atomic Energy Agency inspectors arrive at Imam Khomeini airport in Tehran Oct. 25 (AFP photo)
A four-member team of inspectors from the International Atomic Energy Agency (IAEA) arrived in Tehran early on Sunday to inspect the uranium plant which is being constructed adjacent to a military base south of the capital.
Iran's disclosure of the plant's existence on September 21 to the IAEA sparked a wave of global outrage, with Obama warning the Islamic republic would face "increased pressure" if it fails to come clean on its atomic programme.
Iran has already been enriching uranium -- the most controversial aspect of its nuclear project -- for several years at another plant in the central city of Natanz, in defiance of three sets of UN sanctions.
Uranium enrichment is the focus of Western concern that its ultimate aim is to manufacture a nuclear weapon, a charge strongly denied by Tehran. Chronology: Developments in standoff
Enriched uranium produces fuel for civilian reactors, but in highly extended form can also make the fissile core of an atomic bomb.
IAEA chief Mohamed ElBaradei has already criticised Iran for what he said was its late disclosure of the Qom facility's existence.
"Based on the IAEA regulations, all countries should inform the IAEA on the day they begin construction" of a nuclear plant, he said in Tehran on October 4.
Iran, which informed the agency about a year after building began, said its disclosure obligation only began 180 days before it placed any nuclear material inside the facility.
On Saturday, Mehr news agency, quoting an unnamed Vienna-based official, said the IAEA inspectors will "compare the information given by Iran (about the Qom plant) with the facility during their three-day visit."
Lawmaker Hossein Ebrahimi said the IAEA inspection "shows that Iranian nuclear activities are peaceful and transparent."
Officials say that at the Qom plant they intend to install new generation centrifuges -- the devices which enrich uranium at supersonic speed.
The inspection comes as Obama, Russia's Dmitry Medvedev and France's Nicolas Sarkozy pledged support for a separate deal to end the crisis over Iran's uranium enrichment drive.
The White House said the three "affirmed their full support" for a UN-brokered deal under which Tehran's existing stock of low-enriched uranium (LEU) would be sent abroad.
Western powers are concerned that the material, if not shipped out, could be further enriched inside Iran to weapons grade.
The full details of the deal have not been released, but France has said it calls on Iran to transfer 1,200 kilos of LEU from its Natanz plant to Russia by the end of 2009.
Russia would then enrich the material to the higher 19.75 percent needed as fuel for a Tehran research reactor which makes radio-isotopes for medical use.
Diplomats say Moscow would sub-contract to France the process of turning this Russian-enriched uranium into fuel rods for the reactor.
Obama is said to be cementing the positions of Russia and France, two key members of the group which has been negotiating with Iran. The group has often seemed at odds about the need for new sanctions.
The three presidents spoke after Tehran ignored a Friday deadline to respond to the UN offer, saying it would make its decision in the next week.
But on Sunday criticism continued inside Iran to the deal, which was originally proposed by President Mahmoud Ahmadinejad himself.
Abolfazl Zohrevand, a senior Iranian atomic expert and diplomat, said Western powers want to ship the bulk of Iran's LEU abroad so it would have to ultimately "suspend" its uranium enrichment drive.
Deputy parliament speaker Mohammad Reza Bahonar told the ILNA news agency that it was the IAEA's responsibility to provide fuel to Iran and if it does not then it "would fail to live up to its obligations."
And lawmaker Heshmatollah Felahatpishe said Tehran "must not participate in this dangerous game" with the West, the official IRNA news agency reported.