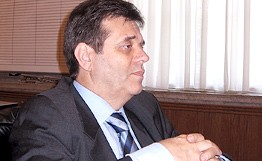 Mr. Vojislav Kostunica
The Serbian prime minister said Wednesday that the plan by UN special envoy Martti Ahtisaari, which would have ceded 15% of the Balkan state's territory, has failed.
Martti Ahtisaari's plan to grant independence to Albanian-dominated Kosovo, regardless of Serbia's objections, and a draft resolution based on the document have been removed from UN Security Council consideration under pressure from veto-wielding Russia, Serbia's long-standing ally.
Speaking following an extraordinary parliamentary session, which voted overwhelmingly to adopt a new resolution on Kosovo as an integral part of Serbia, Vojislav Kostunica said the document established a foundation for further talks on the future of the breakaway province.
Kostunica said the resolution set out "Serbia's firm position, based on respect for its Constitution, the UN Charter and the principle of territorial integrity and the sovereignty of all states."
"Serbia is declaring that it is prepared for new talks," Kostunica said, adding they must begin once the UN Security Council issued a mandate to the Contact Group or other mediators.
The Contact Group, comprising the U.K., France, Italy, Germany, the United States and Russia, will gather in Vienna later Wednesday to prepare a new round of talks between the Serbs and Kosovo's Albanian majority, who are seeking independence.
Kosovo's leaders, disappointed by the delays, have meanwhile threatened to declare independence unilaterally, a move that would unleash fresh turmoil in the region.
Formally a part of Serbia, and its historical heart, Kosovo has been a U.N. protectorate since 1999, when NATO air strikes ousted Serbian troops over the alleged ethnic cleansing of Albanian separatists.