UN atomic watchdog chief Mohamed ElBaradei will travel to North Korea on March 13 to discuss how to monitor the communist state's promised dismantling of nuclear facilities, a spokeswoman said.
"The plan is for Dr. ElBaradei to arrive in Beijing on March 12 and leave for North Korea on the 13th for a two-day visit," International Atomic Energy Agency spokeswoman Melissa Fleming said in Vienna, where the IAEA is based.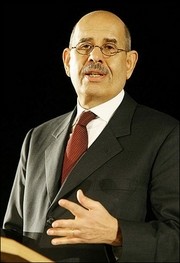 UN atomic watchdog chief Mohamed ElBaradei.
She said the IAEA had "officially received from the Chinese on Friday the agreement reached by the six parties and this was required for the IAEA to take the next step," referring to a deal struck February 13 by China, Japan, North Korea, South Korea, Russia and the United States.
ElBaradei had already announced, without giving a specific date, that he would visit North Korea in mid-March to discuss Pyongyang's agreement to dismantle its nuclear weapons programme.
The IAEA monitors compliance with the nuclear Non-Proliferation Treaty (NPT).
ElBaradei said last month that he would discuss with the North Koreans the return of IAEA inspectors, four years after they were kicked out when Pyongyang withdrew from the NPT, so that they could verify the dismantling of the Yongbyon plutonium-producing reactor.
North Korea is to receive 50,000 tonnes of heavy fuel oil in return for shutting down the reactor, the first step in fulfilling the six-party agreement.
ElBaradei described his trip as "very much a step in the right direction toward implementation of the de-nuclearization of the Korean peninsula."
Critics have complained that the pact, sealed in Beijing, does not require North Korea to destroy its existing plutonium nuclear bombs, or its suspected programme to manufacture highly enriched uranium, which like plutonium is a core material for making atom bombs.
ElBaradei said a key goal of his trip would be to normalize relations between North Korea and the IAEA. Pyongyang had kicked out the agency's inspectors in December 2002 before withdrawing from the NPT in January 2003.
"I hope eventually they will come back to be a member of the IAEA," ElBaradei said in his comments on February 23.
ElBaradei said the IAEA "provides assistance in many areas" of the peaceful uses of nuclear energy, "so I welcome very much that opportunity and hope it will be a constructive visit."
It will be ElBaradei's first visit to North Korea since he became head of the IAEA in 1997.
The trip will follow a meeting starting Monday in Vienna of the IAEA's 35-nation board of governors that will discuss the disputed North Korean and Iranian nuclear programmes.