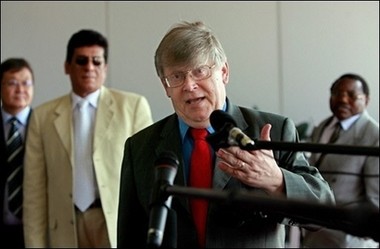 United Nations nuclear inspectors headed by Olli Heinonen (C), arrived in Pyongyang on Tuesday.(AFP Photo)
United Nations nuclear inspectors arrived in Pyongyang on Tuesday for their first visit since being kicked out of Democratic People's Republic of Korea (DPRK) nearly five years ago, China's official Xinhua news agency reported.
"A delegation from the International Atomic Energy Agency (IAEA) arrived here Tuesday," Xinhua said in a brief dispatch from Pyongyang.
The four-person team from the IAEA, the UN's nuclear watchdog, has been tasked with arranging the shutdown of DPRK's nuclear reactor at Yongbyon.
The Yongbyon facility is at the core of DPRK's nuclear weapons programme and the regime pledged in February to close it as a first step towards completely disarming.
The head of the IAEA team, Olli Heinonen, told reporters at Beijing airport before flying to Pyongyang he was optimistic that DPRK would fulfil its commitment.
"I think the DPRK will now do what they have been asked to do," Heinonen said.
The IAEA was expelled from DPRK in December 2002 after the United States accused the country of running a secret uranium enrichment programme in violation of a 1994 disarmament accord.
As part of a six-nation agreement in February, DPRK is to close Yongbyon and allow the IAEA inspectors to return in exchange for aid and diplomatic concessions.