The U.N. climate panel issued its strongest warning yet on Friday that human activities are heating the planet, adding pressure on governments to do more to combat accelerating global warming.
The Intergovernmental Panel on Climate Change (IPCC), the most authoritative group on warming grouping 2,500 scientists from more than 130 nations, predicted more severe rains, melting glaciers, droughts, heatwaves and rising sea levels.
The final text said it was "very likely" -- or a probability of more than 90 percent -- that human activities led by burning fossil fuels explained most of the warming in the past 50 years.
That is a toughening from the last report, in 2001, when the IPCC said the link was "likely", or 66 percent probable. Signs of change range from drought in Australia to record high January temperatures in Europe.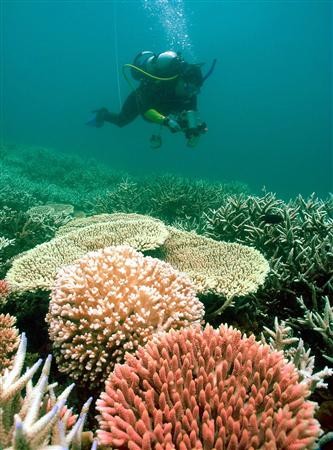 A scientist from Queensland University studies bleached coral at the Keppel Islands on the southern Great Barrier Reef in Queensland, Australia
"Most of the observed increase in globally averaged temperatures since the mid-20th century is very likely due to the observed increase in anthropogenic (human) greenhouse gas concentrations," the text said.
IPCC officials handed out the final text, approved in overnight talks, on Friday morning. Three other IPCC reports in 2007 will give details of threats and ways to combat change.
A 21-page summary of scientific findings for policy makers outlines wrenching change such as a possible melting of Arctic sea ice in summers by 2100 and says it is "more likely than not" that greenhouse gases have made tropical cyclones more intense.
U.N. officials say they hope the report will prompt governments -- led by the United States -- and companies to do more to cut greenhouse gases, released mainly by burning fossil fuels in power plants, factories and cars.
CORAL ATOLLS
The President of Kiribati, a group of 33 Pacific coral atolls threatened by rising seas, said time was running out.
"We're happy that now at last there is agreement," President Anote Tong said a visit to Tokyo. "The question is, what can we do now? There's very little we can do about arresting the process."
The IPCC report predicts a "best estimate" that temperatures would rise by between 1.8 and 4.0 Celsius (3.2 and 7.8 Fahrenheit) in the 21st century, within a likely range from 1.1 to 6.4 Celsius.
Temperatures rose 0.7 degrees in the 20th century and the 10 hottest years since records began in the 1850s have been since 1994. The world is about 5C warmer than during the last Ice Age.
It also projects a rise in sea levels of between 18 and 59 centimetres (7 and 23 inches) in the 21st century -- and said that bigger gains could not be ruled out if ice sheets in Antarctica and Greenland thaw.
Some leading scientists had criticised an earlier draft for cutting the range after the 2001 forecast a rise between 9 and 88 cms by 2100. Rising seas threaten countries such as Kiribati and cities from Shanghai to Buenos Aires.
The IPCC said the lower range showed better understanding of how oceans expand as water warms but the final text said "larger values cannot be excluded." It said there was too little understanding of Antarctica and Greenland ice.
The head of the U.S. delegation said the IPCC report was a "comprehensive and accurate" presentation of climate science and that President George W. Bush's policies, braking the rise of emissions rather than cutting them, were working.
"The President has put in place a comprehensive set of policies to address what he has called the 'serious challenge' of climate change," Sharon Hays, Associate Director of the White House Office of Science & Technology Policy, told Reuters.
Many backers of the U.N.'s Kyoto Protocol, a plan binding 35 industrial nations to cut emissions of greenhouse gases by 2012, want outsiders to get more involved. Top emitters the United States and China are not bound by Kyoto targets.
Bush pulled out of Kyoto in 2001, saying caps would harm the economy and that Kyoto unfairly omitted developing nations from a first period to 2012. He focuses instead on big investments in technologies such as hydrogen and biofuels.