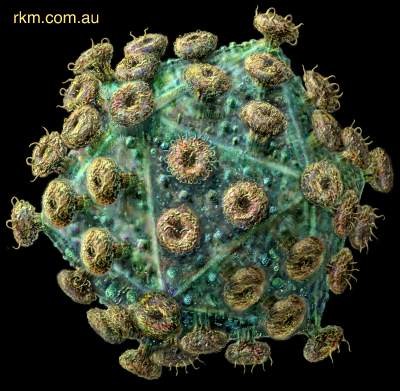 A picture of HIV
GENEVA, Sept 24, 2009 (AFP) - The United Nations on Thursday congratulated researchers for the "encouraging" results from an AIDS vaccine clinical trial that has cut the risk of infection by a third.
"The study results, representing a significant scientific advance, are the first demonstration that a vaccine can prevent HIV infection in a general adult population and are of great importance," said the World Health Organisation and the Joint UN Programme on HIV/AIDS.
"The two UN agencies congratulate both the principal investigators, sponsors and the trial volunteers who have made this encouraging result possible," they added in a joint statement.
The world's largest vaccine trial on 16,000 volunteers, carried out by the US Army and Thailand's Ministry of Public Health, found that the new vaccine reduced the risk of AIDS infection by some 31.2 percent.
The United Nations noted that it may not be possible to get licensing permission for the drug at the moment based on the results, and that further studies would have to be done to determine if the vaccine has the same effect in other parts of the world.
"However, these results have instilled new hope in the HIV vaccine research field and promise that a safe and highly effective HIV vaccine may become available for populations throughout the world who are most in need of such a vaccine," said the United Nations.