The United Nations says devastating floods have affected 1 million people in Pakistan. Officials say floods have killed 430 people in the deadliest such disaster to hit the region since 1929.
The U.N. Office for the Coordination of Humanitarian Affairs says the cost of damage from floods was not clear. Rescuers were using army helicopters, heavy trucks and boats to reach flood-hit areas.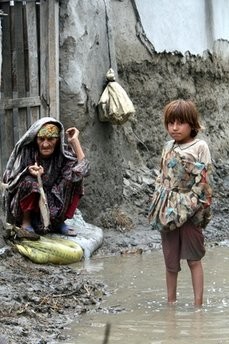 A woman sits outside her house flooded by heavy monsoon rains in Peshawar, Pakistan on Friday, July 30, 2010.
Government official Lutfur Rehman said Saturday floodwaters were receding in the northwest, but rescuers were facing problems reaching affected people because of damage caused to roads and bridges.
The flooding capped an already deadly week in Pakistan. A passenger jet slammed into hills overlooking Islamabad killing all 152 people on board Wednesday.