The United States on Thursday presented the UN Security Council with a draft resolution backing the US-sponsored Annapolis conference decision to relaunch the Mideast peace process.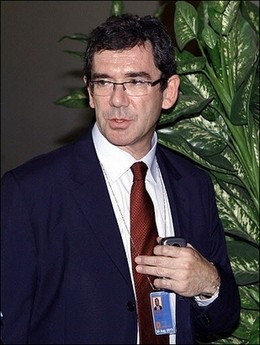 French Ambassador Jean-Maurice Ripert (Photo: AFP)
Distributed to reporters, the draft says the Council "endorses the program of action for negotiations and implementation of outstanding obligations ... agreed upon by the Israeli and Palestinian leadership at Annapolis, Maryland on November 27, 2007."

Under US President George W. Bush's aegis, Isaeli and Palestinian leaders met at the Maryland state capital to revive the stagnant Middle East peace process and set the goal of a peace agreement and a new Palestinian state by the end of 2008.

After consultations on the draft text, US ambassador Zalmay Khalilzad said the 15-member council had "a good discussion ... there was enormous support."

"Everyone recognizes that we collectively and individually have to do what we can to be supportive, to sustain the momentum and to help the parties as they make the difficult decisions that they have to make" to achieve peace, he added.

French Ambassador Jean-Maurice Ripert said the international community "must support the process and the dynamics of Annapolis."

He said France "deems important that the Security Council, as the US initiative aims at, supports this dynamic triggered in Annapolis, which must bring about, before the end of 2008, a viable and democratic Palestinian state living in peace with Israel."

"France will take all its part in those efforts," Ripert said, stressing that on December 17 France will organize in Paris "a donors' conference to bring financial and political support to the Palestinian Authority."

Chinese Ambassador Wang Guangya said "Annapolis is a positive step," and that the council, "the primary organ for international peace and security, should pronounce itself on this particular event."

Indonesian Ambassador Marty Natalegawa, council president for November, said the draft resolution might be adopted on Friday when the UN body holds its monthly debate on the Middle East.

The US-proposed document "calls on all states to lend their diplomatic and political support to Israeli-Palestinian efforts to implement their agreed program of action, including by encouraging and recognizing progress and preventing any support for acts of violence or terrorism intended to disrupt their efforts."

It also "calls on those states and international organizations in a position to do so to assist in the development of the Palestinian economy, including at the upcoming donors' conference in Paris."