The UN Security Council is to meet next week on Iran's nuclear program, a diplomat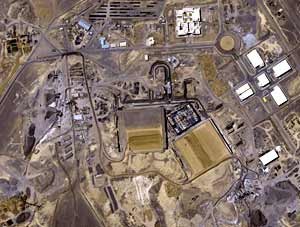 The nuclear facility near Natanz, Iran in 2003
close to the UN's nuclear agency said Wednesday.
"I have information that it will be next week," said the diplomat, adding that the International Atomic Energy Agency should finish considering later Wednesday a report by the UN agency's director on Iran's nuclear program.
The report by IAEA chief Mohamed ElBaradei will be automatically transmitted to the UN Security Council.
US Says Iran Has Enough Uranium Gas to Make 10 Nuclear Weapons

Before UN Security Council's meeting, the United States has alleged that Iran has enough uranium gas to make 10 nuclear weapons and has called for new inspections in the Islamic Republic, a diplomat in Vienna told AFP Wednesday.
A senior US official made the claim at a closed-door meeting in Vienna of the International Atomic Energy Agency (IAEA), the United Nations' nuclear watchdog, the diplomat said.
US ambassador Gregory Schulte told the IAEA's 35-nation board of governors that Iran had failed on every count to meet the watchdog's call for it to suspend uranium enrichment.
Uranium is enriched so it can be used as fuel in a nuclear power reactor or, if enriched further, to make an atomic weapon.
Schlulte said Iran had 85 tons of the uranium hexafluoride (UF6) gas and said this was enough to make 10 atom bombs, the diplomat reported.
He said there now should be special inspections of Iran's nuclear facilities.
Iran Threatens US in Nuclear Conflict
Iranian men attend a gathering of Iranian war veterans and families (Iran-Iraq 1980-88) to support their country's nuclear program (AFP Photo)
A top Iranian official Wednesday threatened the United States with reprisals in the dispute over Tehran's disputed nuclear activities.
"The United States may have the power to cause harm and pain but it is also susceptible to harm and pain," Javad Vaidi, head of the Iranian delegation at the UN nuclear watchdog, told AFP here.
"So if the United States wishes to choose that path, let the ball roll."
AFP-SGGP