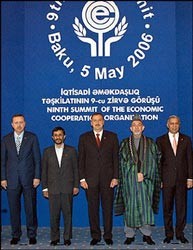 Iran President (2nd, L) at the 9th Economic Cooperation Organization Summit, in Baku (AFP Photo)
Britain, China, France, Russia and the United States -- the council's five permanent members with veto powers (P5) -- first haggled behind closed doors in the morning before sitting down with their 10 non-permanent colleagues in the afternoon.
It was agreed that P5 ambassadors would meet again late morning Saturday before informal consultations by the full 15-member council in the afternoon.
The Franco-British draft would oblige Iran to suspend uranium enrichment, the process creating fuel for nuclear reactors and -- potentially -- the core of an atomic bomb. However it merely warns of, in cases of Iranian non-compliance, unspecified "further measures" requiring another resolution.
A Western diplomat said the sponsors were working on a formula that could overcome objections by Moscow and Beijing to the draft's reference to Chapter Seven of the UN Charter.
Chapter Seven can authorize economic sanctions or military action as a last resort in cases of threats to international peace and security.
Diplomats said a vote on the draft was unlikely until after Monday's meeting of foreign ministers of the P5 plus Germany in New York.
Britain's UN envoy Emyr Jones Parry said the discussions were "helpful" with all members agreeing on the goal that "we do not want to see an Iran with nuclear weapons."
But Russian Ambassador Vitaly Churkin made it clear the purpose of the draft was to provide assurances that "the Iranian program stays exclusively within a peaceful framework."
And he argued that only the Vienna-based UN nuclear watchdog agency can provide that assurance.
He also suggested that invoking Chapter Seven and a threat to international peace might be "detrimental" to the goal of having the International Atomic Energy Agency (IAEA) work with Tehran to "establish the peaceful nature of its nuclear program."
Chinese Ambassador Wang Guangya argued that according to Article 25 of the UN charter, "any decision by the Security Council has to be carried out," implying that Chapter Seven may not be necessary.
"I don't share that view," retorted British envoy Emyr Jones Parry.
Western powers suspect Iran is trying to acquire nuclear weapons under the cover of its civilian atomic program but Tehran insists its drive aims to generate electricity only.
US Ambassador John Bolton, explaining the rationale for invoking Chapter Seven, said: "the objective is to increase the political pressure on Iran by making mandatory the resolutions that have already been agreed to over a three-year period by the IAEA."
He said the formulation in no way implied the use of force.
Tanzanian Ambassador Augustine Mahiga called for a parallel "diplomatic initiative" through multiple channels to engage the Iranians and convince them they should comply with UN demands.
Meanwhile Turkish Prime Minister Recep Tayyip Erdogan said he told Iranian President Mahmoud Ahmadinejad on the sidelines of a regional gathering in Azerbaijan that the world community would not tolerate nuclear weapons proliferation.

Source: AFP