UN workers prepared Monday to deliver the first aid in a week inside rebel-held territory in the eastern Democratic Republic of Congo as a fragile ceasefire held in place.
UN peacekeepers were to escort the humanitarian convoy to Rutshuru, a town in Nord-Kivu province, after government forces and rebels assured its security, said Gloria Fernandez, head of mission for the UN Office for the Coordination of Humanitarian Affairs.
It will be the first aid to the area for a week since its distribution was interrupted by an escalation in the conflict. The rebels have been observing a unilateral ceasefire since Wednesday.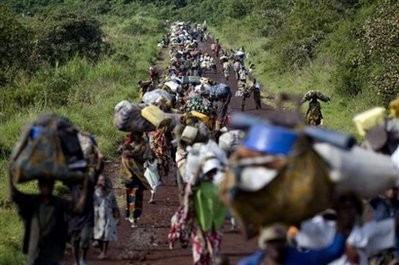 Displaced people in DRCongo leave Kibati heading north.
"Many humanitarian organisations were forced to leave their places of work and suspend their operations temporarily," Fernandez told reporters in Goma, the capital of Nord-Kivu province.
As the rebels sought to reassure residents in newly-captured territories that they would be safe, Western diplomats pleaded for cooperation to address humanitarian concerns.
"More than 1.6 million internally displaced are trapped in the crisis" and cannot be easily reached, British Foreign Secretary David Miliband said Sunday in the Tanzanian city of Dar Es Salaam.
"They are without food, water and other necessities."
Miliband was speaking after he and French counterpart Bernard Kouchner met Tanzanian President Jakaya Kikwete, chairman of the African Union, following talks with Congolese President Joseph Kabila and Rwandan leader Paul Kagame.
Kinshasa has accused Rwanda's Tutsi-dominated regime of backing the rebels of the National Congress for the Defence of the People (CNDP) led by a former general, Laurent Nkunda, who says he is protecting local Tutsis.
Kigali denies the charge, but analysts say there is little doubt Rwanda -- frustrated by Kinshasa's failure to disarm a Rwandan Hutu rebel group that is harbouring key perpetrators of the 1994 genocide against Tutsis -- is helping Nkunda.
Uruguayan military commander Jorge Rosales, overseeing UN peacekeeping troops in Congo, said Friday the rebel forces were being backed by tanks and artillery from Rwanda.
Kikwete said Sunday he was involved in diplomatic efforts ahead of a summit on the situation in Nairobi next week, where the leaders of Rwanda and Congo have agreed to discuss the crisis.
The top US diplomat for African affairs, Jendayi Frazer, has also held talks with Kabila and Kagame.
On the main road linking Goma and Rutshuru, 75 kilometres (45 miles) to the north, a flood of people -- many of whom fled just seven days ago -- trudged along a road on foot, carrying bundles of personal belongings.
They were making their way to their homes, many starving after fleeing refugee camps and sleeping outside.
"We received no food, so we are returning," said Paul Bashoboye Bareke, 51, surrounded by his wife and their eight children.