The United Nations said Monday it was still awaiting two-dozen visas for its foreign staff to enter Myanmar, and that the regime had to act fast to prevent more deaths in the aftermath of a cyclone.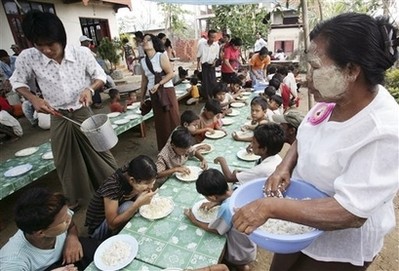 Myanmar volunteers serve a free breakfast to children at a temple after the destructive Cyclone Nargis on the outskirts of Yangon, Myanmar, Monday, May 12, 2008
The UN said 24 of its staff were awaiting permission to enter the secretive nation, which says it will not let foreigners direct the relief effort despite massive devastation from the storm that has left 62,000 dead or missing.
The world body has repeatedly stressed that its disaster experts are essential to assist in the slow-moving international relief effort.
"Very few visas have in fact been granted," Catherine Bragg, deputy head of the UN's emergency relief arm, said in a statement, announcing an appeal for 187 million dollars to fund its cyclone aid operations.
"Faster progress on this issue is crucial to the effectiveness of the response," she said. "If we do not act now, and we do not act fast, more lives will be lost."
Despite days of pleas from the international community, the ruling generals -- deeply suspicious of the outside world -- have insisted that the relief effort must be run by its own people.
The United Nations said in an internal report that the true death toll could be 100,000 or more.