The UN's cultural agency met on Sunday in Istanbul to consider adding over two dozen new sites to its prestigious global heritage list, and called for a strong global response to the threats posed by extremism, sources from VNS/AFP.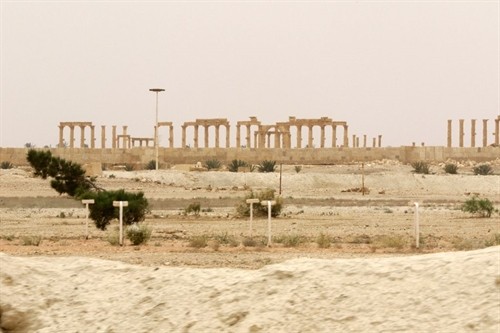 A view of the Great Colonnade in the ancient city of Palmyra in central Syria on April 9. — AFP Photo
The meeting of the World Heritage Committee of UNESCO comes less than two weeks after the main airport in Istanbul was hit by a triple suicide attack that left 47 people dead.
The strike was blamed on Islamic State (IS) jihadists who have already destroyed irreplaceable heritage in Turkey's neighbours Syria and Iraq.
UNESCO director general Irina Bokova told the opening ceremony of the 11-day session that world heritage was under threat in countries riven by unrest from Mali to Yemen.
"Our response should be strong on the ground and also strong in a moral sense," she said.
Bokova said the fact the committee was holding the meeting in Istanbul – a city for centuries controlled by Christian Byzantines and since the Ottoman conquest by Muslims -- was a "strong symbol" of support to Turkey.
"The fact we are here... in a city which is a bridge between East and West... is an important message to share with the world when we see violent extremists target human rights and cultural diversity," she said.
She said ancient sites such as the remains around Palmyra in Syria and Mosul in Iraq -- ravaged by IS jihadists -- had been "destroyed and laid waste for military goals."
Turkish Prime Minister Binali Yildirim said in a video message that at a time when cultural heritage and values were being destroyed by war "an even greater responsibility and bigger task falls upon UNESCO."
Deputy Prime Minister Numan Kurtulmus meanwhile told the ceremony UNESCO could work in a "more effective way" to protect global heritage.
'Healing wounded memories'
Bokova paid tribute to those who had risked their lives to preserve cultural heritage, in particular the expert caretaker of Palmyra in Syria, Khalid al-Assad, who was murdered by IS in 2015.
"It reminds us that human beings are not only made of flesh and blood but also values to be transmitted. And this is transmitted through heritage."
The Committee will examine proposals to inscribe more than two dozen sites on UNESCO's World Heritage List.
Natural sites under consideration range from extinct volcanoes in France, to an underwater marine reserve in Sudan.
Cultural sites include works by the Franco-Swiss architect Le Corbusier, the historic centre of Panama City and mediaeval tombstones in the Balkans.
"What is at stake is more than adding new sites on the lists," Bokova said.
"It is about affirming human values and human rights. It is about healing wounded memories, harnessing heritage to regain confidence, to recover and to look into the future."
The World Heritage List today has 1,031 sites in more than 163 countries.