JAKARTA, July 17, 2009 (AFP) - An unexploded bomb was found in a room of the JW Marriott hotel in downtown Jakarta on Friday after a bombing there and the nearby Ritz-Carlton hotel killed at least nine people, a senior official said.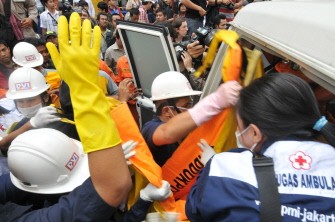 Indonesian policemen evacuate a dead person from the blast at the Ritz-Carlton hotel and the nearby JW Marriott in Jakarta on July 17, 2009 (AFP photo)
Presidential advisor Djali Yusuf told AFP police found the bomb in what they believed was the "control centre" for the attacks.
The bomb was found and defused as police searched the luxury hotel following the bombing in its basement, which killed seven people earlier in the morning.
"The control-centre was a room at the JW Marriott, room number 1808, where anti-terror police found explosive materials and an unexploded bomb," he said.
"The anti-terror police squad has managed to make the bomb inactive."
Police have not said who they believe was responsible for the attacks and no group has claimed responsibility.
Past bombings in the mainly Muslim country have been blamed on the Jemaah Islamiyah network, including the 2002 bombings in Bali which killed more than 200 people and an attack at the Marriott in Jakarta in 2003 which killed 12.