The UN International Children's Emergency Fund has provided 7.2 million USD for interventions in health, nutrition, and the Water, Sanitation and Hygiene (WASH) programme in rural areas of Laos, according to Lao news agency KPL, source from Vietnamnews.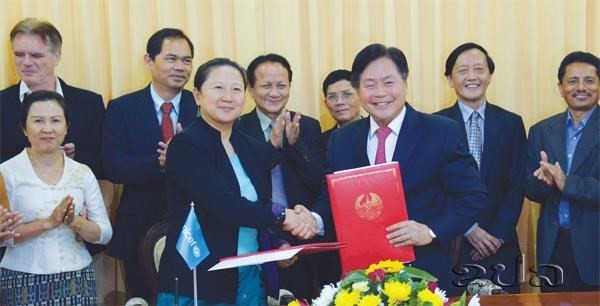 At the signing agreement
The signing ceremony for the Health/Nutrition and WASH Multi-Year Work Plan 2017-2018 was held on March 17 in Vientiane.
"The cooperation between UNICEF and the Ministry of Health will ensure that the most disadvantaged children and their families receive integrated maternal and child health immunization and nutrition services, that they have equitable access to and use of sustainable improved water sources and sanitation facilities, and adopt hygienic practices," UNICEF Country Representative to Laos Hongwei Gao was quoted by KPL as saying at the ceremony.
The cooperation will strengthen district health systems to ensure the implementation of the essential service package and support the implementation of nutrition specific interventions including the feeding of infants and young children.
KPL said the work plan 2017-2018 will also support community service delivery of high impact new-born and child interventions to address morbidity due to common complications. It will implement WASH and climate change resilience policies, including the national strategy on rural water, sanitation and hygiene, and conduct reviews of guidelines, standards and designs of packages for WASH facilities in communities and schools.
The WASH programme will be implemented in selected schools and communities.