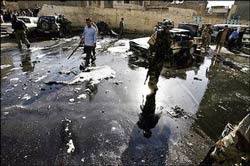 US soldiers and Iraqi police commandos secure the site where a car bomb exploded in a central Baghdad neighborhood, Nov. 12, 2006 Violence has incresed after Saddam's death sentence (AFP Photo)
Armed men wearing military-style uniforms kidnapped around 100 employees and visitors Tuesday from a building of the Iraqi higher education ministry, a minister said.
Higher education minister Abed Dhiab al-Ujaili went on state television to describe the incident as a "terrorist act where some 100 employees and ordinary people were kidnapped."
"This morning a large force arrived with many vehicles with tinted windows claiming to be police commandos and they clashed with the guards and then entered the building and snatched all the employees and some visitors," he said.
Ujaili said that two offices in the Scientific Research Directorate were raided and wondered how such an event could take place when the area is often patrolled by security forces.
"Last week I demanded from both the interior and defense ministries to provide security for universities and the ministry building," he said. "There have been terorrist threats."
The ministry, which is controlled by the Sunni National Concord Front party, is located in the middle-class and largely Shiite district of Karrada.
Security officials originally put the number of people snatched in the raid at around 25 and said government vehicles, both pickup trucks and sports utility vehicles, were used.
Mass kidnappings by gunmen disguised as members of the security forces have become a common event in Baghdad. Even if they are not carried out by the security forces, many people believe they take place with their collusion.
The kidnappings are often for ransom, though in some cases, many of the victims have subsequently been found dead.