WASHINGTON, June 18, 2011 (AFP) - Computer systems are back up at United Airlines after a nationwide failure that drastically disrupted operations, the US carrier said early Saturday, apologizing to passengers left stranded by the glitch.
"Our systems are up. We are in the process of resuming (operations)," the airline said in a post to the blogging site Twitter. It said it was working out a penalty waiver for those whose plans with the airline were affected.
Glitches that also affected the main website were fixed, the airline said, adding: "We again apologize for the disruption caused to our customers."
"At approximately 7:15 pm central time (0015 GMT Saturday), United Airlines experienced a computer outage interrupting the airline's flight departures, airport processing and reservations systems," the airline said in a statement released late Friday.
The problems left thousands of passengers across the country stranded, some on planes and others waiting in airports.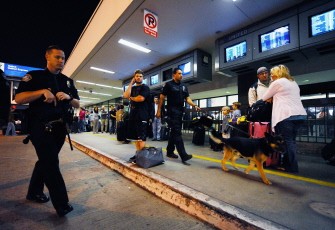 AFP - Los Angeles International Airport police patrol outsdie the United Airlines terminal as hundreds of passengers stranded at Los Angeles International Airport wait in line outside and inside the airline's terminal for the computer system to come back up on June 17, 2011
One airline traveler in Portland, quoted by the Denver Post, said the airline had announced to passengers they were "having systemwide computer problems affecting everything from reservations to weather reports for pilots."
The Chicago-based airline did not say whether other airlines -- notably its partner Continental -- were affected by the outage.
United merged with Continental on October 1 last year to form the world's largest airline group, with a cumulative total of some 5,820 flights daily, though the two companies still operate separately.