U.S. presidential contender Hillary Rodham Clinton said on Thursday the United States should talk with Iran, Syria, Hamas and Hezbollah as she outlined a plan for the Middle East that left open the possibility of military action against Tehran.
The New York Democratic senator, who aims in 2008 to become the first woman U.S. president, said in a speech to a pro-Israel lobbying group that valuable knowledge and leverage could be gained from engaging with those countries and organizations.
"I have advocated engagement with our enemies and Israel's enemies because I want to understand better what we can do to defeat those who are aiming their hatred, their extremism and their weapons at us," Clinton told the American Israel Public Affairs Committee dinner in New York.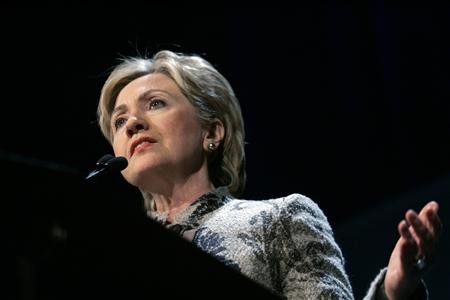 U.S. Senator Hillary Clinton (D-NY) speaks at the AIPAC dinner in New York February 1, 2007.
The wife of former President Bill Clinton said new tactics were needed "in the endeavor to rein in terrorism, to prevent Iran from becoming a nuclear power and to quell the influence of (Islamist groups) Hezbollah and Hamas."
The United States accuses Iran of undermining efforts to stabilise Iraq and of having a secret nuclear weapons program, but Iran says its nuclear projects are for civilian power generation.
"We need to use every tool at our disposal, including diplomatic and economic, in addition to the threatened use of military force," Clinton said.
"I also want to send a message -- if we ever do have to take more drastic action -- to the rest of the world that we exhausted all possibilities because we need friends and allies to stand with us as we stand with Israel in this long war against terrorism and extremism," she said.
Clinton, who reiterated support for the security barrier Israel is building in the West Bank, also said the Palestinians' governing Hamas should not be recognized until it renounces violence and terrorism and recognizes Israel's right to exist.
"We believe that Israelis have the right to live in their country without the constant threat of terrorism, war and rocket fire," she said. "We stand with Israel because it's a beacon of democracy in the region."