UN chief Ban Ki-moon begins a visit to Israel and the West Bank on Saturday, hot on the heels of a Middle East Quartet call for Israel to halt all settlement construction and for a peace deal with the Palestinians by 2012.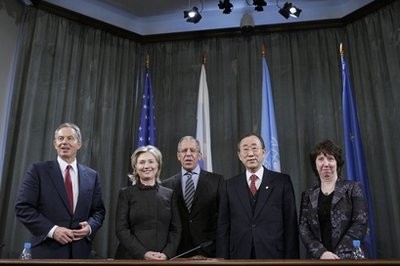 From left, former British Prime Minister Tony Blair, U.S. Secretary of State Hillary Rodham Clinton, Russian Foreign Minister Sergey Lavrov, U.N. Secretary General Ban Ki-moon and EU foreign policy chief Catherine Ashton pose for a family photo after the news conferences in Moscow, Russia, Friday, March 19, 2010.
He kicks off his two-day visit by meeting Palestinian prime minister Salam Fayyad in the West Bank political capital of Ramallah, and the two will hold a news conference afterwards.
He is also expected to meet senior Israeli officials and to visit the Hamas-run Gaza Strip, still largely in ruins following an Israeli military campaign at the start of last year.
On Friday, the Quartet (European Union, Russia, the United Nations and the United States) issued an ambitious statement after a meeting of senior officials in Moscow aimed at getting moribund peace talks back on track.
"The Quartet urges the government of Israel to freeze all settlement activity ... to dismantle outposts erected since March 2001 and to refrain from demolitions and evictions in East Jerusalem," he said.
It also urged Israel and the Palestinians to resume talks on final status issues -- security, borders of a future Palestinian state, the fate of Palestinian refugees and the status of Jerusalem -- to find a settlement within 24 months.
Such a deal would end "the occupation which began in 1967 and result in the emergence of an independent, democratic and viable Palestinian state living side by side in peace and security with Israel," Ban said.
Israeli Foreign Minister Avigdor Lieberman was particularly irked by the two-year deadline.
"Peace cannot be imposed artificially and with an unrealistic calendar," he was quoted as saying in an address to the Jewish community in Brussels.
"This type of statement only harms the possibilities of reaching an accord."
Chief Palestinian negotiator Saeb Erakat welcomed the Quartet's call, but asked for a mechanism to "make sure that Israel does effectively halt completely all settlement activity in the West Bank and east Jerusalem."
And speaking before his meeting with Ban, Fayyad said of the Quartet statement: "we regard it as a progressive statement encompassing all the key elements that should govern how the political process proceeds."
Last week, Israel announced plans to build 1,600 new settler homes. That infuriated its chief ally Washington, coming as US Vice President Joe Biden visited the country.
Israeli Prime Minister Benjamin Netanyahu called Clinton late on Thursday following a tense call last week during which she urged him to halt the settler plans.
Clinton said Friday the strong US reaction to Israeli settlement plans was "paying off."
She pointed to the call as one reason behind US Middle East envoy George Mitchell's visit to the region on Sunday after it was postponed over the settlement construction announcement.
Clinton and Netanyahu are set to hold talks next week when Netanyahu visits Washington for the annual policy conference of the American Israel Public Affairs Committee, the top pro-Israeli lobby.
The Palestinians had refused to return to the negotiating table until all construction was halted, but were persuaded by Washington to enter into indirect talks. It is not now clear what their stance is, and Ban might be planning to encourage them to do so.
The flurry of diplomatic activity comes as tensions remain high between the two sides and have spilled over into deadly violence.
On Thursday, a rocket fired from Gaza killed a Thai agricultural worker in Israel, sparking Israeli airstrikes on Gaza. There were more air strikes on Friday night.
Human Rights Watch appealed to the Islamist movement Hamas to prosecute those behind the rocket attack.
"Hamas as the de facto authority in Gaza has the responsibility to stop indiscriminate rocket attacks into Israel," Joe Stork, deputy Middle East director at the US-based rights group, said in a statement.
At the same time, Palestinian demonstrators clashed with Israeli security forces in the West Bank and east Jerusalem during anti-settlement protests after the Muslim Friday prayers.
There were also demonstrations in Gaza.