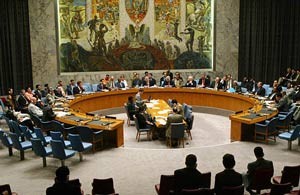 A meeting of UN Security Council's permanent members
The UN Security Council's draft resolution on Iran, legally requiring Tehran to stop sensitive nuclear fuel work, needs to be fundamentally changed, Russian news agencies quoted Deputy Foreign Minister Sergei Kislyak as saying on Saturday.
The draft resolution "requires major changes," he said, according to Interfax and RIA-Novosti.
"It's too early to say what changes should be brought to the draft resolution to satisfy the Russian side. Consultations are ongoing," Kislyak was quoted by RIA-Novosti as saying.
Members of the United Nations Security Council were expected on Saturday to hold a new round of talks in New York on the resolution, which was put forward by London and Paris in response to international concern over the nature of Iran's nuclear programme.
The resolution would legally oblige Iran, under Chapter Seven of the UN Charter, to suspend uranium enrichment -- the process used to produce fuel for nuclear reactors and, potentially, the core material of an atomic bomb.
If Iran does not comply the draft warns of unspecified "further measures", that would require the adoption of another UN resolution. Russia and China have firmly opposed talk of sanctions against Iran.
Russia "has come forward with an offer the essence of which is that Iran freeze uranium enrichment work for a time to work with the IAEA (International Atomic Energy Agency) to restore trust in the character of Iran's nuclear programme", Kislyak was quoted by ITAR-TASS as saying.
The international community's call for Iran to halt uranium enrichment work, however, "is not an aim in itself but a tool for restoring trust in their nuclear programme", Interfax reported him as saying.
Western powers suspect Iran is trying to build up a nuclear weapons capability under the cover of an atomic energy programme but Iran insists its nuclear aims are peaceful and has defended the country's right to develop civilian nuclear power.
Diplomats said earlier that a vote on the draft resolution was unlikely until after a meeting in New York on Monday of foreign ministers from the five permanent members of the Security Council -- Britain, China, France, Russia and the United States -- plus Germany.

Source: AFP