WASHINGTON, Jan 19, 2010 (AFP) - Up to 200,000 Haitians living in the United States may be eligible to obtain temporary asylum following the massive earthquake that devastated their country one week ago, a senior US official said Tuesday.
"Our preliminary estimate is between 100,00 and 200,000 people," said Alejandro Mayorkas, director of the US Citizenship and Immigration Services (USCIS), told AFP.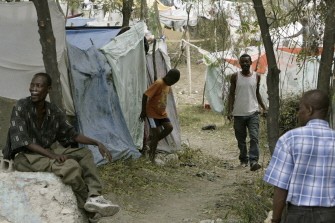 A woman inspects a banner with words seeking help scrawled by residents of a neighbourhood in Port-au-Prince on January, 19 (AFP photo)
The US government on Friday offered Haitians living in the United States without proper immigration documents protection under a program known as Temporary Protected Status (TPS).
A person with TPS status can be in the country for 18 months without fear of deportation, and following a review of their case, can obtain a temporary work permit.
The immigration chief however warned that only Haitians living in the United States before the earthquake struck are eligible.
Those who try to enter the country illegally "will not succeed and they will be repatriated," Mayorkas said.
Some 1.2 million Haitian immigrants currently live legally in the United States.
TPS requests will be received starting Thursday, said Mayorkas, who on Wednesday will be in Miami to meet members of the Haitian community to explain the application process.
The Immigration Services office will hold similar events in other US cities with large Haitian communities such as New York and Orlando, Florida.
Mayorkas said that his office opened a new web page in English and French to explain the process, and was preparing to handle an expected flood of applications.
Those who cannot afford the 130 dollars application fee -- 470 dollars for those seeking a work permit -- can ask for a fee waiver, said Mayorkas.
Separately, a south Florida member of Congress returned from a visit to Haiti Tuesday and said he wants to personally inform President Barack Obama of what he saw.
Congressman Kendrick Meek represents a district that includes a section of Miami known as "Little Haiti," where many Haitians live.
He is the first member of the US Congress to visit Haiti after the earthquake, and said he wants to give Obama "a first hand account of what I saw in the last two days."
Communications and security issues would top his agenda in any talks with the president, Meeks said.
"You can't get a full appreciation" of the devastation "unless you walk down the streets of Port-au-Prince, into the neighborhoods downtown. I think it's important that the people who make the decision have the full appreciation of what's happening," Meeks said.
"If the right decisions are not made right now it's going to make this recovery process a lot more difficult. And we will see the first effects of the international failure to meet the need of these very desperate individuals," he added.