As many as six people including foreigners were killed in a suicide car bombing targeting a foreign security company in the southern Afghan city of Kandahar, officials said.
Britain said it was investigating after reports that its nationals may have been among the dead in the attack in the provincial capital late Thursday.
One Afghan official said one foreigner died and a policeman was killed, while another said three foreigners and three Afghans had lost their lives in the bombing, the second to rock the city that day.
"We are aware of an explosion this (Thursday) evening in Kandahar," said a spokesman for the Foreign Office in London. "We understand there are a number of internationals among the casualties but their nationalities have not yet been confirmed," he said.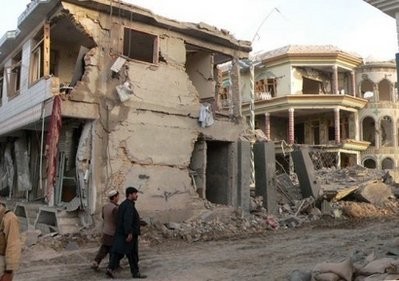 Afghans walk past the site of an explosion in Kandahar in southern Afghanistan on April 16. British and military officials were Friday investigating reports that security contractors from Britain were among the victims of a suicide car bombing in volatile southern Afghanistan
"The Foreign and Commonwealth Office is in contact with ISAF personnel in Kandahar in order to establish the facts," he said, referring to NATO's International Security Assistance Force.
The province of Kandahar is the spiritual home of the Taliban and is seen as the key battleground to reverse nearly nine years of escalating conflict in Afghanistan, which is taking an increasing toll on foreign forces.
Four German soldiers were also killed and five wounded on Thursday when their patrol came under attack as they were travelling from the northern city of Kunduz to Baghlan, a Taliban stronghold.
Suicide bombings and other attacks are a part of daily life in Kandahar, which was the Taliban's capital during their brutal 1996-2001 rule.
"It was a suicide car bomb that targeted a foreign security company," deputy provincial police chief Fazil Mohammad Sherzad said of the attack in Kandahar which struck around 9:00 pm (1630 GMT).
Ahmed Wali Karzai, the head of the Kandahar provincial council and brother of President Hamid Karzai, told AFP that one policeman and one foreigner had been killed and another policeman wounded.
A senior government official, who declined to be named, said "three expatriates and three Afghans" had been killed in the blast, but there was no formal confirmation.
"So far we have received one dead body belonging to a foreign national," said Daud Farhad, a doctor at Kandahar's Mirwais hospital, adding that another 16 people were admitted with injuries, including one foreigner.
Intelligence officials warned the death toll could rise and may include more foreigners.
Several hours earlier a bomb went off in abandoned car left outside a city centre hotel used by Afghan journalists, injuring at least six people, police said.
Afghanistan is in the grip of a deadly insurgency led by remnants of the Taliban, whose regime was overthrown in late 2001 in the US-led invasion.
Suicide and other bomb attacks are part of the militants' arsenal in their campaign against the Western-backed government and the 126,000 US and NATO troops currently stationed in the country.
Kandahar and surrounding areas are the focus of a major US and NATO push against the militants, as part of a new US-led counter-insurgency strategy in the Taliban stronghold that is also the hub of opium production.
In northern Afghanistan, the German patrol came under fire from anti-tank grenades or missiles in an attack that came after a visit to Afghanistan by German Defence Minister Karl-Theodor zu Guttenberg.
The latest casualties come less than two weeks after three German soldiers were killed near Kunduz, and bring to 43 the total killed in Afghanistan since Germany's disputed deployment began in 2002.