SEOUL, April 3, 2009 (AFP) - The United States and its allies warned North Korea not to go ahead with a planned satellite launch, vowing a stern response amid signs Friday the communist state is just a day or two from blast-off.
A US defence official said there were indications the North is fuelling its rocket, while other experts said that weather conditions favoured a launch on Saturday.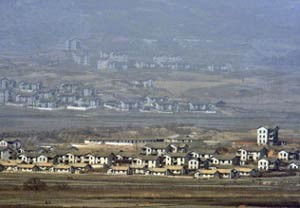 A North Korea border village is seen, taken from the Dora observation post near the demilitarised zone separating the two Koreas in Paju on April 2 (AFP Photo)
The United States, Japan and South Korea say Pyongyang is using the launch as a pretext to test a Taepodong-2 ballistic missile which could reach Alaska or Hawaii, in defiance of United Nations resolutions.
Pyongyang has given a window of April 4-8 for what would be its third launch of a Taepodong-class rocket.
Washington made an 11th-hour appeal to the North to hold back.
State Department spokesman Robert Wood urged the hardline regime "to desist from launching any type of missile.
"It would be counter-productive. It's provocative. It further inflames tensions in the region," he said Thursday. "We want to see the North get back to the six-party framework and focus on denuclearisation."
Japan made the same point.
"The test-launching of the missile will damage peace and stability in the region," Prime Minister Taro Aso told reporters after a G20 summit in London.
"The test-launching will constitute a violation of the UN Security Council resolutions and therefore it is not acceptable."
Aso, who has reportedly predicted a Saturday launch, stressed that if North Korea went ahead, "we must take up the matter firmly at the Security Council."
South Korea's weather agency forecast cloudy skies but no strong winds or rain this weekend for northeast North Korea, where the Musudan-ri missile base is located.
US President Barack Obama and South Korean counterpart Lee Myung-Bak, who met Thursday on the G20 sidelines, promised a "stern" response.
"The presidents said the international community needs to take stern, unified action against North Korea if the North fires a long-range rocket," a South Korean official told AFP.
An Obama administration official said any launch would see the United States seek to "firmly" respond at the United Nations.
North Korea, which tested a nuclear weapon for the first time in 2006, insists it is pursuing a peaceful space programme, and has said it will roll back efforts to shut down its nuclear programme if the United Nations even debates the issue.
It also threatens to "mercilessly deal deadly blows" at Japanese targets should Tokyo try to intercept its rocket.
Japan and the United States have deployed anti-missile Aegis destroyers to monitor the launch.
Tokyo has also deployed Patriot guided-missile units on land, but says it will only try to bring down the North's rocket should it start falling toward Japanese territory.
Recent imagery appears to confirm there is a satellite atop the missile -- but the United States and its regional allies say that a satellite launch also tests missile technology and would therefore breach UN resolutions.
North Korea fired a shorter-range Taepodong-1 over Japan in 1998 as part of a failed satellite launch, and a longer-range Taepodong-2 in 2006.
The 2006 test failed, with the missile exploding after 40 seconds.
Later that year the UN Security Council passed resolutions sanctioning the North over its missile and nuclear activities, but they were not strictly enforced amid new international efforts to persuade it to dismantle its nuclear programme.