The United States will permit India to question a Chicago man who has admitted scoping out sites for the deadly 2008 Mumbai attacks, Home Minister P. Chidambaram said on Saturday.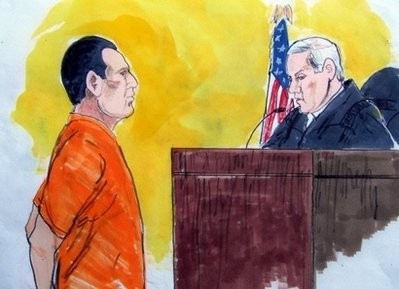 In this courtroom drawing, David Coleman Headley faces US District Court Judge Harry Leinenweber on March 18 in Chicago.
The assurance came following a telephone conversation between Chidambaram and US Attorney General Eric Holder on Friday, the minister said in New Delhi.
"It is my understanding that India would be able to obtain access to David Coleman Headley to question him in a properly constituted judicial proceeding," Chidambaram said in a statement.
"Such judicial proceedings could be either pre-trial or during an inquiry or trial (and) it is also my understanding that Headley is obliged to cooperate fully and truthfully in such proceedings," he said.
Headley pleaded guilty Thursday to 12 terrorism charges after US prosecutors agreed not to seek the death penalty or to allow the suspect to be extradited to India.
"The conversation (with Holder) has clarified a number of aspects concerning the plea agreement," Chidambaram added.
The Washington-born son of a former Pakistani diplomat and American woman, Headley spent two years casing out Mumbai ahead of the November 2008 attacks by 10 Islamist gunmen that left 166 people dead.
US Assistant Secretary of State Robert Blake, currently on a two-day trip to New Delhi, confirmed that Indian authorities could quiz Headley but ruled out his extradition, the Press Trust of India reported.
"With respect to the Headley case, the plea bargain agreement was announced and part of that agreement was that the US would not extradite Headley either to India or Pakistan or Denmark for the charges for which he has now admitted guilt," he said.
Headly was arrested at Chicago's O'Hare airport on October 3.
India and the US blamed the attacks on Pakistan's banned militant group Lashkar-e-Taiba (LeT) and Blake said the outfit's "increasing global scope and ambition" was of "greatest concern" for Washington and New Delhi.
Headley joined LeT in 2002, attending terrorist training camps five times over the next three years.
A date has yet to be set for Headley's sentencing, where a judge will hear arguments as to whether he should spend the rest of his life in jail or be given leniency for his cooperation.
Headley has also accepted plotting to kill a Danish cartoonist who sparked outrage with cartoons depicting the Prophet Mohammed.