Pentagon munitions have leaked from Afghan forces to Taliban militants, enabling them to fight an insurgency for years against materially superior US and Afghan forces, The New York Times reported.
According to a Times study of ammunition markings, of 30 rifle magazines removed from the corpses of insurgents in eastern Afghanistan last month, at least 17 contained cartridges, or rounds, "identical" to ammunition the United States has provided to Afghan government forces.
Although "the scope of that diversion remains unknown," the newspaper warned that "poor discipline and outright corruption among Afghan forces may have helped insurgents stay supplied" in the wake of "only spotty" US and Afghan controls of weapons and ammunition sent to Afghanistan.
Following criticism for failing to account for thousands of rifles provided to Afghan security forces, some of which have been found in the hands of militants, the Pentagon launched a database documenting small arms supplied to Afghan units.
And the US-led Combined Security Transition Command Afghanistan, which is responsible for training and supplying Afghan forces, has said it has prioritized accounting for all Afghan military and police property.
"The emphasis from our perspective is on accountability of all logistics property," the transition command's deputy chief, Brigadier General Anthony Ierardi told the newspaper.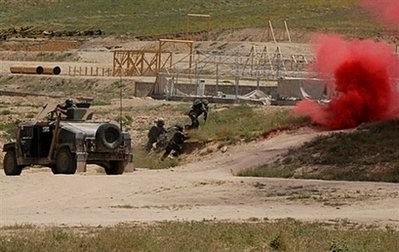 US Army handout picture shows Afghan National Army Commandos taking part in a drill in Kabul
Leakage of Pentagon-supplied armaments to insurgents is an "absolutely worst-case scenario," he said.
But no similar system of accountability is applied to ammunition, which is more difficult to trace than firearms.
Military officers told the newspaper that US forces do not examine all captured arms and munitions to determine how they fell into the hands of insurgents and whether the Afghan government was supplying -- even indirectly -- the Taliban.
The reasons for the gap, according to The Times, owed to "limited resources and institutional memory of issued arms, as well as an absence of collaboration between field units that collect equipment and the investigators and supervisors in Kabul who could trace it."