WASHINGTON, March 23, 2010 (AFP) - The United States said Tuesday that China must consider the "implications" of Google's decision to effectively shut down its Chinese search engine because it was too hard to do business there.
China, meanwhile, angrily attacked Google for stopping censorship of its Chinese-language search engine but said there should be no broader fallout in Sino-US ties provided there was no political meddling in the United States.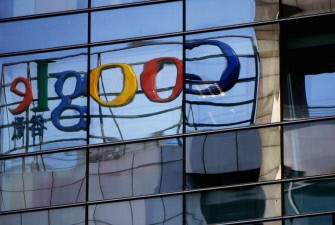 The Google logo is reflected in windows of the company's China head office in Beijing on March 23, 2010. AFP photo
On Wall Street, Google shares shed 1.52 percent on Tuesday to close at 549.00 dollars while Google rival and Chinese search market leader Baidu saw its share price gain 2.62 percent to close at 594.88 dollars.
State Department spokesman Philip Crowley said the United States respects but was "not party" to Google's decision to redirect Web search queries from mainland China to an uncensored site in Hong Kong.
In Beijing, officials reserved their ire for Google, which lifted censorship of its Chinese search engine, Google.cn, in response to cyberattacks last year the company said targeted Google code and the email accounts of Chinese rights activists.
"I don't see it influencing Sino-US relations unless some people want to politicize it," Chinese foreign ministry spokesman Qin Gang said, describing the Google situation as "mainly an individual commercial case."
"If you link this to China-US relations or politicize it, or even link it to China's international image, this is mere overkill," Qin said. "China's market is fully open."
Google said it was "business as usual" at its China headquarters, as a fierce debate erupted online between Chinese defenders of free speech and nationalist-minded net users denouncing foreign interference.
Google spokeswoman Marsha Wang said she had no information about layoffs or a possible transfer of staff to the US giant's Hong Kong offices, saying only that "adjustments" could be made "according to business demand."
Despite Google's promise of uncensored results, searches of politically sensitive key words generated the browser message "cannot display the webpage" -- suggesting China's "Great Firewall" of Internet control remained erect.
Google's top lawyer David Drummond said the firm was "well aware that (China) could at any time block access to our services."
Despite Monday's decision, Drummond said Google plans to maintain its sales and research and development teams in China, which has the world's largest online population at 384 million.
Google launched Google.cn in January 2006 after agreeing to censor websites for content banned under Chinese law. Google.cn is the second-largest search engine in China after Baidu.
A Chinese official in charge of the Internet bureau of the State Council Information Office said that by ending censorship, Google had "violated its written promise" to block controversial search results.
The world's search leader was "totally wrong" to stop censoring its Chinese-language search engine and to blame Beijing for the alleged hacker attacks, the official said.