SYDNEY, Sept 30, 2009 (AFP) - Australia, New Zealand and the United States led immediate pledges of assistance to the Samoan islands after a devastating 8.0-magnitude earthquake and tsunami which killed dozens.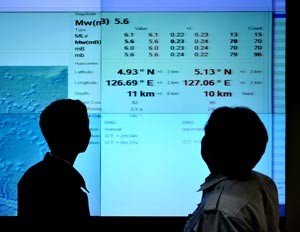 Rahmat Triyono (R), head of the tsunami early warning division checks the status of 5.8 scale earthquake that hit Talaud island in Indonesia, which occured after a strong earthquake triggered a tsunami in the islands of Samoa, in Jakarta on September 30, 2009 (AFP photo)
US President Barack Obama declared a major disaster in the remote Pacific territory American Samoa, where at least 14 people were killed when a massive wall of water swept over the US-administered island early Tuesday local time.
"The president tonight declared a major disaster exists in the territory of American Samoa and ordered federal aid to supplement territory and local recovery efforts in the area struck by an earthquake, tsunami, and flooding," a statement from the White House said.
Australian Prime Minister Kevin Rudd said Australia stood ready to assist the neighbouring island of Samoa, which gained independence from New Zealand in 1962, and where dozens more people died, including a number of tourists.
"We see our friends in Samoa as part of our Pacific family and therefore, when natural disaster strikes, Australia has always stood ready to assist them," Rudd said.
Two military aircraft were on standby in Sydney awaiting final confirmation from Samoan authorities, and Rudd said Canberra stood ready to provide "all forms of practical assistance in dealing with the aftermath of this natural disaster."
Neighbouring New Zealand dispatched an Orion aircraft to join the coastal search for survivors and help assess damage to villages, roads and infrastructure, said that country's Foreign Minister Murray McCully.
"A C130 Hercules is also on standby to carry emergency supplies to Samoa if needed," he added.
The US Federal Emergency Management Agency also sent two emergency teams to the region and pre-positioned supplies in Hawaii that could be used for emergency response.
Australia's parliamentary secretary for aid Bob McMullan said Canberra would lead a joint Pacific relief response with France and New Zealand on behalf of the international community.
He said the details were yet to be finalised but he anticipated the response would focus on medical and search and rescue efforts.
Temporary shelters and water purification equipment would also be a priority, McMullan said, adding that he expected supplies and personnel to leave for Samoa before nightfall.
"This is a well-governed country with a well developed national response strategy which has gone into place, but it's just too big a challenge for a country of this size and so of course as a friend and a neighbour and the biggest country in the region it's our responsibility to assist, which we're pleased to do," McMullan said.
He also flagged possible assistance to Tonga, once the situation there had been assessed.