A US bankruptcy judge late Sunday approved a restructuring plan for troubled car manufacturing giant General Motors that calls for selling its assets to a new government-backed company.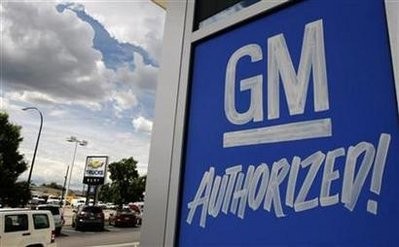 A sign advertising a sale at the Burt GM auto dealer in Denver June 1, 2009.
"The 363 transaction is approved," Judge Robert Gerbert wrote in his ruling, referring to the plan.
Gerbert said he had examined about 850 objections to the restructuring plan raised by GM stockholders and others, but argued that he could not find them valid.
"Once again, the court is sensitive to their concerns, but cannot help them," he wrote. "GM is hopelessly insolvent, and there is nothing for stockholders now. And if GM liquidates, there will not only be nothing for stockholders; there will be nothing for unsecured creditors."
GM, which filed for bankruptcy protection on June 1 after reaching agreements with its main union and the bulk of its major creditors, is said to be planning to launch the new company in mid July.
That would be well ahead of the 60 to 90 day timeframe predicted by President Barack Obama's administration, which spearheaded the process.
Under the proposed plan, the US government will own 60.8 percent of GM's capital in exchange for some 50 billion dollars in emergency loans.
Canada, which also provided billions in loans, will have 11.7 percent and a United Auto Workers retiree health care trust fund will hold 17.5 percent.
Creditors holding GM bonds will swap 27.1 billion dollars in debt for a 10-percent stake and warrants allowing them to buy an additional 15-percent stake.