Commercial real-estate loans could bring losses of 100 billion dollars at 940 small and midsized US banks by the end of 2010, according to a study published Tuesday by the Wall Street Journal.
In all, these loans funding the construction of shopping malls, office buildings, hotels and apartment complexes could be responsible for almost half of the losses at the banks analyzed by the newspaper.
The Journal, which used the same loan-loss criteria for the banks as federal regulators did for their recent "stress tests" to determine the financial viability of the 19 largest US financial establishments, said total losses for the banks it studied could actually end up surpassing 200 billion dollars (150 billion euros).
At "nearly all" the banks, the Journal said potential losses could exceed revenue over that same period.
Under the newspaper's worst-case scenario, more than 600 small and midsized banks could see their capital reduced to risky levels, and almost a third of the banks could reach those levels due to losses in commercial real-estate.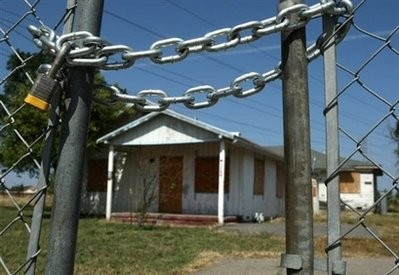 An abandoned home behind locked gates in Stockton, California.
In contrast, the banks would see a total of 49 billion dollars of losses on home loans.
Small and midsized banks "are in just much worse shape" than the big banks, Oppenheimer & Co. analyst Terry McEvoy told the newspaper after reviewing its study. "There is a lot less earnings power at these banks."
The Federal Reserve estimated that the 19 largest banks could see potential losses of 600 billion dollars, but that most of the shortfalls were manageable.
But for smaller banks, bankruptcy is still an option, although the newspaper does not foresee a repetition of the 1,256 bank closings that took place between 1985 and 1992.
Since early 2008, US regulators have seized 58 banks, including 33 so far this year.