Weeks after warning that ties were in disarray, China is signaling a readiness to work with the United States but fresh disputes could set back relations just as quickly, analysts say.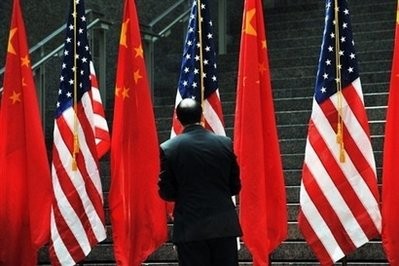 A US official adjusts Chinese and US flags in Washington, DC. (AFP Photo)
China on Monday praised the "positive attitude" of President Barack Obama after he voiced support for a greater relationship with the rising Asian power in receiving its new ambassador.
The calls for cooperation come despite two angry Chinese protests since the beginning of the year after Obama approved an arms package to Beijing's rival Taiwan and met with Tibet's exiled spiritual leader the Dalai Lama.
"This was a nice symbolic movement on which the two countries could agree to change the tenor," said Nina Hachigian, a China expert at the Center for American Progress, a left-leaning think-tank.
"It was optically very easy to show that relations are improving," she said. "But there are plenty of things coming up that could derail the relationship."
Chief among them is currency. Some 130 lawmakers have called on Treasury Secretary Timothy Geithner to declare that China is manipulating its yuan's value for trade advantage -- and have threatened legislation if he does not.
The Treasury will make its decision in a report due on April 15. It comes days after Obama holds a major summit in Washington on nuclear security to which China's leaders have not yet RSVPed.
"If it finds China to be a manipulator, China will find it very irritating and relations could turn rocky again," Hachigian said.
Other potential disputes include human rights, climate change and Internet freedom after Google reported cyberattacks by China.
Dean Cheng, a research fellow at the conservative Heritage Foundation, cautioned that Obama's meeting with the new ambassador, Zhang Yesui, was more a matter of atmospherics.
"Let's be honest -- no one was expecting the president of the United States to rip up the credentials of the ambassador and tell him to get out of his office," Cheng said.
He said the real test of relations would come in laying the groundwork for the next dialogue between the United States and China, for which Geithner and Secretary of State Hillary Clinton are expected to head to Beijing in late May.
The real work between the two nations comes in "working group discussions and meetings and here we do have unfortunately relatively little movement," Cheng said.
On one key issue, Clinton and her deputy James Steinberg said China was recognizing a threat from a nuclear Iran. Obama said Tuesday he hoped for an international consensus on new sanctions within weeks.
But Cheng noted that China has longstanding objections to sanctions against Iran, one of its oil suppliers.
"The point is we (the US and China) have very different perspectives," he said. "It is the job of diplomats to lie for their country and to lie well to put the best face forward on what might be quite an ugly pile of nonsense."
China's leaders largely had a favorable image of former president George W. Bush. When Obama took office in January 2009, he set a goal of expanding cooperation between the world's largest developed and developing nations.
But China faced a backlash in Washington after its treatment of Obama during his maiden trip last year. China made no symbolic gestures such as freeing dissidents and did not even broadcast Obama's one public forum nationally.
Charles Freeman of the Center for Strategic and International Studies said US and Chinese leaders may have decided to tone down populist sentiment pressing for tougher responses against the other country.
"I think there's a recognition in both capitals that you really don't want to let this get too out of hand," Freeman said.
"If nothing else, both countries recognize they can't afford to get the relationship wrong," he said.