The United States and China announced a raft of trade deals worth $45 billion Wednesday, as the two powers tried to narrow disputes by tethering their economic fortunes.
Lauding 70 export agreements spanning firms in 12 US states, presidents Barack Obama and Hu Jintao edged away from the fevered rhetoric of recent months to stress mutual dependency, as Hu embarked on a key four-day visit.
Obama expressed hope for a renewal of relations, casting aside "old stereotypes" and allowing US firms to more easily benefit from China's breakneck development.
"I absolutely believe that China's peaceful rise is good for the world and it's good for America," he said.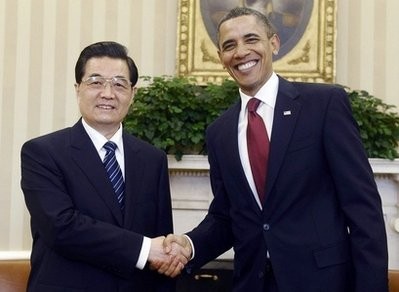 US President Barack Obama (R) shakes hands with his Chinese counterpart Hu Jintao before a bilateral meeting in the Oval Office at the White House in Washington, DC.
Facing down domestic suspicions that China has rode roughshod over trade rules and over US exporters, Obama stressed the package, worth $45 billion dollars to US exporters, would support 235,000 US jobs.
The deals included a massive order for 200 Boeing aircraft worth an estimated $19 billion dollars.
While foreign leaders frequently bring a fistful of trade agreements to Washington, the scope of Wednesday's deals points to rapidly deepening trade between the United States and its emerging rival.
"It is par for the course, but it is very important given the political context between China and the United States," said Yukon Huang, an Asia expert with the Carnegie Endowment for International Peace.
"The trade imbalance and frictions in terms of jobs and market access are the biggest concerns for both sides right now. Both sides are trying to stress the common ground."
Chinese businesses have descended on the United States to coincide with Hu's visit, inking agreements with US titans Alcoa, General Electric, Honeywell, Westinghouse and Caterpillar among others.
The deals span sectors as diverse as agriculture, gasification, railways and hybrid buses.
An additional three billion dollars' worth of Chinese investment in the United States was also announced.
"These will inject fresh momentum into our bilateral cooperation," Hu said after Oval Office talks.
The deals come in stark contrast to the trade spats that have complicated relations in recent years, when US officials have appeared increasingly exasperated that cheap Chinese products are flooding the US market.
Washington has frequently challenged China at the World Trade Organization and complained that Beijing has kept the value of its currency artificially low to boost its exports, risking dangerous imbalances in the global economy.
The meeting also touched on US complaints that China does not adequately protect copyright and unfairly discriminates against foreign firms in competitions for lucrative government contracts.
Obama said steps had been taken toward resolving each of those issues.
Hu was said to have agreed to make it easier for US firms to tap government procurement contracts beyond the central government.
Chinese "sub-central" government bodies are said to procure more than the $88 billion committed by Beijing each year.
"I welcomed his commitment that American companies will not be discriminated against when they compete for Chinese government procurement contracts," Obama said, referring to the Chinese leader.
He also welcomed promises to curb the theft of intellectual property.
According to Huang, Hu's promises are a "positive step," but come after several false starts.
"Implementation is another issue because actually procurement is done by corporations and provinces, it is decentralized -- you cannot control every contract," Huang said.
"Whether it is substantive depends on how the tone permeates through the bureaucracies on both sides."