BEIJING (AFP) – China and the United States were Sunday locked in an escalating dispute over US arms sales to Taiwan, with Washington rebuffing Chinese protests and insisting the deal will add stability in the Taiwan Strait.
The Pentagon Friday sparked the latest challenge to China-US relations under President Barack Obama when it approved the 6.4-billion-dollar sale of Patriot missiles, Black Hawk helicopters, mine-hunting ships and other weaponry.
China responded furiously with a raft of reprisals, saying it would suspend military and security contacts with Washington, impose sanctions on US firms involved in the deal and warning of "severe harm" to bilateral relations.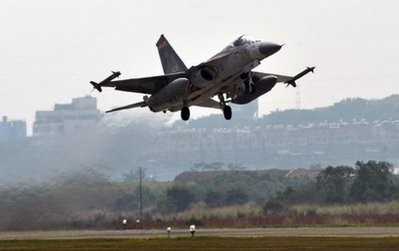 An aircraft seen at an air base in Taichung, southern Taiwan (AFP file)
US State Department spokeswoman Laura Tischler told AFP the sale "contributes to maintaining security and stability across the Taiwan Strait", a viewed echoed by Taiwan President Ma Ying-jeou.
"It will let Taiwan feel more confident and secure so we can have more interactions with China," Ma, who has overseen a marked warming in relations with China, was quoted saying by Taiwan's Central News Agency.
But China's state-run Xinhua news agency quoted an unnamed official with its Taiwan Affairs Office, which handles relations with the island, as rejecting that view as "totally untenable".
"The planned US arms sale sends the wrong signal to Taiwan and will only encourage the arrogance of Taiwan independence forces and hinder the peaceful development of cross-strait ties," the official said.
The strong Chinese response underscored a rapid degeneration in relations with the United States amid strains over trade, climate change and China's Internet controls.
China said the row would endanger Sino-US cooperation on major international issues. The United States is seeking Beijing's help in curbing the nuclear programmes of both Iran and China's ally North Korea.
"Cooperation between China and the US on key international and regional issues will also inevitably be affected," China's foreign ministry said in an official protest to the United States. Related article: Taiwan's first lady visits US
But Bonnie Glaser, a China expert at the Center for Strategic and International Studies in Washington, said she expected Beijing to stay engaged on Iran because of its growing interests in the Middle East.
She added there was a risk China could overplay its hand out of anger over Taiwan, which Beijing says is part of its territory and must return to the mainland fold following their split at the end of a civil war in 1949.
"There is a sense in China that their leverage over the United States and their position in the world is growing, and in that sense there might be a little bit of overreaching," she said.
China's state media was largely mum on the issue Sunday. However, in a more restrained commentary, Xinhua stressed the need for both sides to keep relations on track.
"The current era requires healthy, stable and developing China-US ties," it said, emphasising many "common interests."
Analysts noted that the arms package, while including communications equipment for Taiwan's F-16 fleet of fighter jets, did not include new fighter jets that Taiwan has sought.
China refuses to rule out the use of force to reacquire Taiwan and has hundreds of missiles deployed against the self-governing island of 23 million people.
The last US arms package for Taiwan, announced under Obama's predecessor George W. Bush in 2008, also led China to cut off military relations with the United States temporarily.
But this time the sanctions are more biting, coming as China's clout has increased with its economy set to overtake Japan's and its military budget surging annually.
Obama's national security adviser, former general James Jones, said the administration was being "transparent" with Beijing, while the Pentagon expressed regret over Beijing's response.