The US-led coalition in Afghanistan on Thursday deflected accusations that it killed 11 Pakistani soldiers in an air strike, releasing video footage which it says shows its forces targeting insurgents.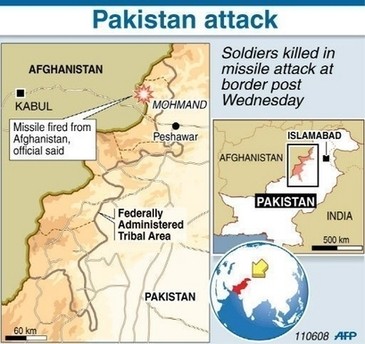 A map locating Mohmand region in North West Pakistan. The US-led coalition in Afghanistan has deflected accusations that it killed 11 Pakistani soldiers in an air strike, releasing video footage which it says shows its forces targeting insurgents(AFP/Graphic)
Islamabad has accused US-led forces in Afghanistan of launching an unprovoked and "cowardly" attack on the checkpost in Pakistan's volatile Mohmand tribal zone, further straining ties between the "war on terror" allies.
In response, US officials said Washington regretted the "reported loss of Pakistani life" but insisted its forces had carried out a "legitimate strike" in the early hours of Wednesday -- and had given Pakistan advance warning.
On Thursday, the coalition backed those claims with video footage showing what it called "precision" strikes on a group of seven insurgents who sought refuge in Pakistan after attacking a coalition patrol in eastern Afghanistan.
The video footage, taken by an unmanned drone, shows a first strike targeted at men hiding behind a rock, and three subsequent attacks on men seeking cover in a ravine.
"It is clear there are no structures or (Pakistani) outposts in the impact area," a voice says off-camera.
The incident would be the worst of its kind since Islamabad sided with the United States in 2001 in its fight against Taliban and Al-Qaeda extremism.
It also comes amid growing unease in Washington and Kabul over Pakistan's efforts to negotiate with Taliban militants.
"The timing is terrible," said Bruce Riedel, a senior Brookings Institution analyst as well as a former CIA officer and advisor to three US presidents on South Asian affairs.
"Whatever little pressure Pakistan has been putting on Al-Qaeda is likely to get even smaller," he told AFP.
Pakistani security officials say Afghan troops crossed the pourous frontier and tried to occupy a strategic Pakistani post in a long-disputed area of the troubled tribal belt.
The Afghan troops were repulsed, the officials say, with coalition forces then bombing the area, killing 11 soldiers and around 15 Taliban.
In an unusually harsh statement, a Pakistani army spokesman "condemned this completely unprovoked and cowardly act" and warned that it had "hit at the very basis" of cooperation in the anti-terror fight.
Islamabad later summoned US ambassador Anne Patterson to lodge a protest.
The US-led coalition said no troops crossed into Pakistan during the incident.
US State Department spokesman Gonzalo Gallegos said Washington was "sad to see the reported loss of Pakistani life," but added: "Our troops were defending themselves against a hostile act, which they have the right to do."
Pentagon spokesman Geoff Morrell echoed those comments, saying "every indication we have is that it was a legitimate strike in self-defence against forces that had attacked the coalition forces."
Pakistani President Pervez Musharraf backed the toppling of Afghanistan's Taliban regime after the September 11, 2001 attacks, but his support has angered many Pakistanis and drawn the wrath of militants.
Earlier this year his allies were voted out of office, and the new government has sought to strike peace deals with militants in the restive tribal zones.
Insurgents fighting the Afghan government and the NATO- and US-led forces shoring it up regularly cross into the tribal zones, where they find refuge as well as a steady supply of weapons, ammunition and new recruits, experts say.
Pakistan has protested over a spate of missile strikes attributed to US-led forces in Afghanistan in recent months.
Several Pakistani soldiers have also been killed by stray shells, but this week's incident appears to be the first time any may have been killed by a targeted air strike by US forces.
The attack came two days after a think tank funded by the US Department of Defence said members of Pakistan's intelligence services and its paramilitary forces were supporting the Taliban.